Cape Town coffee chain opts for loyalty app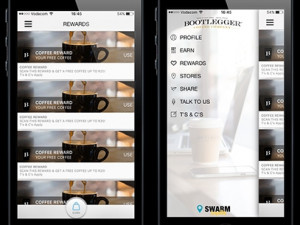 Bootlegger Coffee Company, a Cape Town-based coffee bar and restaurant chain, has replaced its paper-based loyalty cards with an app.
Bootlegger was first opened in 2013 in Sea Point by Pieter Bloem, De Waal Basson and Antonie Basson. It has since expanded, with several outlets across the Cape metro.
Since launch, the company has had paper-based loyalty stamps for customers to receive a reward for visiting the establishment a number of times. However, it says paper was limiting and it wanted to create a more interactive loyalty system that coincided with the company's values.
"As part of a broader environmental ethic that includes ethical farming and reusable supplies, we are looking at different areas to lessen our environmental impact, use fewer trees, and therefore move away from paper-based systems," says Bootlegger marketing manager Cara Attewell.
"Like anything paper-based, our stamp cards were prone to getting themselves lost, had to be regularly reprinted and restocked, and used up an unnecessary amount of paper, so we sought out the best option to replace them with a digital alternative."
The Bootlegger loyalty app was initially designed as a direct replacement for the company's loyalty stamp cards, so customers can click and collect their stamps on the app as they would with a physical card.
However, the company found it could do much more with the technology and has integrated more ways for customers to earn benefits.
The app was developed by South African company, SWARM Loyalty.
SWARM MD Rowan Vlaming says the app offers new ways for Bootlegger to interact with customers by offering them surprise offers and letting them know about events.
Attewell says the app will also allow Bootlegger to gather information about its clientele, with their permission, to help the company with market research.