Ex-Vodacom security expert joins NEC Africa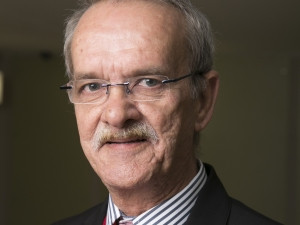 NEC Africa has appointed Vernon Fryer, former Vodacom security expert, to head up its African Cyber Business and Cyber Defence Operation Centre.
Fryer, with more than 46 years of experience, was formerly group chief technology security officer at Vodacom where he strategically aligned networks, information services, and Vodafone Group Technology Security.
"Vernon is a real thought leader in the cyber security space and with his vision for combining physical and digital security through the application of NEC technologies excites us," says Eugene le Roux, MD and President of NEC Africa.
"His passion, together with his background in service providers and government, makes him the ideal candidate to help us build this new business in Africa. He has built the Cyber Operations Centre over the last eight years for Vodacom with huge success and we are honoured to have him join our business."
Le Roux adds that Fryer will collaborate closely with NEC's global Cyber Defence Operations Centre to create local expertise in collaboration with local partners.
NEC already has cyber operations facilities in Japan, Singapore, Australia, Austria and America to be joined by the newly planned centre in Africa.
"XON, our local associate, currently performs many consulting and installation services around security on a project-by-project basis. Our plan is to utilise NEC's global competence with our local skill in establishing a new security-as-a-service business model," says le Roux.
"NEC Africa is the African extension of NEC's consolidated global intelligence and security services network," says Fryer. "NEC Africa's Cyber Defence Operations Centre builds on the first cyber security factory in Japan created in 2014, the later Singapore cyber security factory established in 2016, and several new security operations centres (SOC) created in Australia, the US, and Austria.
"Our service is unique on the African continent. We are the only service provider capable of integrating physical and cyber security," he says. "Typically, that's the extraction of facial recognition intelligence, fingerprints and so on, combined with data from social media feeds and other similar sources such as usernames, handles, hashtags, e-mail addresses, written posts, messages, location data, time stamps, photographs, and videos."
Fryer's experience began at IBM in finances and continued through to the South African Police Service where he was head of information security, head of cyber crime for Interpol Southern Africa, and national head of the Computer Crime Unit.
NEC's global security operations centres, served in Africa by NEC Africa with its associate, XON, are being integrated into a follow-the-sun service. These centres will provide global threat analyses and responses for NEC customers, including those that form part of NEC's safe cities programme. The centres are divided into two types: Cyber Security Factories and Security Operations Centres.
NEC's cyber security factories include top-level white hat hackers and other security personnel who constantly analyse changing and evolving cyber-attack information, accumulate and share technology and know-how needed in countering unauthorised access and other security incidents, and enhance capacity to investigate and analyse cyber attacks.