Review: Samsung Smart TV and entertainment system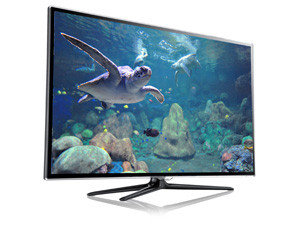 Something happened in the evolution of TVs while I was sleeping. The technology has taken a quantum leap from being merely, well, a TV (case in point: my TV), to being a hub of awesomeness that not doubles, not triples, but quadruples up as a Web browser, game station and media player (case in point: the Samsung Series 6 6200 Slim LED Smart TV).
The same can be said for home entertainment systems. Mine's pretty average, but the one Samsung included for review with its Smart TV, the HT-E4500K Blu-ray 3D/DVD home entertainment system, does a lot more than one would expect.
Look and feel
The 6200 Smart TV is gorgeous, or, as my husband put it: "It's the thinnest TV I have ever seen," as he lovingly stroked the object you would swear was animate by the look in his eyes.
Samsung's One Design concept combines the TV's bezel with the panel, so users get to experience the full 46-inch viewing effect without any borders hogging valuable screen space.
And it really is pretty...it's almost like a massive ornament, and at just 4.69cm thick (at its widest part; I would estimate the actual screen thickness is only about 1.5cm) with black detail, it's sleek too and doesn't take up much space. There are no buttons on the front of the TV, but at the back you'll find a myriad connectivity options, including three HDMI inputs, three USB inputs, as well as support for wireless LAN, Ethernet, a headphone set, digital audio out, a mini jack and more.
The home entertainment system is also elegant. It's all-black design with silver finishings match the TV perfectly. Included are six speakers, supporting 7.1 channel 3D surround sound. While the bass speaker is quite large, as they generally are, the other five are fairly small (but don't be deceived by their size) and can be tucked nicely out of the way. The actual DVD player also sports a simple design. At the front, you'll find a digital display, a USB port, two microphone ports and buttons for basic functioning (power, play, pause, stop, etc).
Getting started
Both the TV and entertainment system were incredibly simple to set up - without a manual.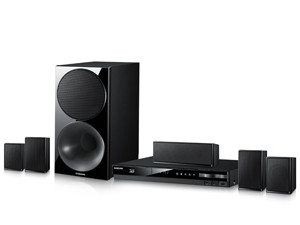 To get the TV up and running (if you're not wall-mounting it) is a simple matter of screwing the stand onto the base. The stand itself is not chunky and fits onto even small coffee tables. It also has some 'give', so you can position the TV at an angle.
Despite its size, the 6200 weighs less than a large bag of dog food, at a surprising 14.6kg, meaning one (relatively strong person with long arms) can pick it up.
The speakers of the entertainment system are colour-coded for easy installation. Also, they just plug right in - no need to fiddle with wire connections. I found the default sound settings were great, but users have many different sound effects to choose from and can change all the speakers' settings intuitively to suit their preferences.
The entire system was set up in under 10 minutes.
Viewing experience
The thing about full high-definition LED TVs is that you either love or hate the realism effect they produce. My first encounter with an LED TV was in a hotel room in London. I remember hating it. I'm now on the fence, although I must admit that Samsung rattled that fence a bit and I fell ever so slightly over onto its side.
The 6200 features Samsung's Clear Motion Rate technology, which it says "produces the clearest motion graphics" through a combination of chip set, TV panel and backlight. Combined with a resolution of 1920 x 1080 pixels, the crispness is evident (Samsung claims the 6200's resolution is twice as high as that of standard HD TVs). Colours were bright and sharp and the detail was astonishing. Samsung says its Wide Colour Enhancer technology lets users "see colours as they were meant to be seen". I'm inclined to agree.
Included with the TV are two pairs of 3D glasses. While the difference between 2D and 3D when watching normal TV wasn't striking, the 6200 really comes into its own when the glasses are used for watching 3D Blu-ray movies on the HT-E4500K. With a 46-inch screen, quality 3D glasses (not the flimsy kind you get at the movies) and 3D surround sound, this could possibly be better than the cinema experience - and you get to put your feet up on the couch.
The 3D Sound Plus technology of the HT-E4500K complements the 3D viewing of the 6200 perfectly. There is a marked difference between watching in 2D and 3D sound. In fact, 3D sound was of such a high quality that we kept it on that setting throughout the review process, although some people may want the softer tones of 2D when listening to talk radio, for example.
The HT-E4500K boasts Samsung's Crystal Amplifier Plus technology, which the company says filters sound sources twice to minimise distortion and produce crystal-clear sound. I have to give it to Samsung - the sound quality is superb. Listening to music on the entertainment system is a whole other experience. There's just something about the bass that sends the music straight into your bones and there are a number of sound effects to choose from, including movie and live amphitheatre.
Connect. Share. Engage.
Samsung's Smart Hub is what makes the 6200, well, smart. And this is the evolution bit I mentioned earlier.
From the Smart Hub, which can be accessed by pressing a single button on the remote control, users can browse the Web, and download and install apps from Samsung Apps. However, usage of all these functions requires a fast Internet connection and the one annoyance I found here is that it constantly needs updating. All. The. Time. In fact, every time you access Smart Hub, there will invariably be something that needs updating - more than once a day. Uncapped Internet is probably the way to go.
That being said, connecting the TV to a wireless network, thanks to the built-in wireless LAN, is very easy, and possibly the best part is that each family member can have his or her own Smart Hub profile, kind of like different users on a PC (up to 10). That means dad can install the Sports24 app, mom can access her Fitness profile, and the teenagers can link their Facebook and Twitter accounts to their own profiles. I predict many fights for the remote control in tech-savvy families.
When accessing Smart Hub, a small box appears in the top-left corner of the screen, so you can continue watching TV while accessing the Smart Hub.
The Smart Hub has a number of features, including Family Story, Fitness, Kids, Social TV, Your Video and Channel Manager. Family Story allows users to set up groups that family members can join and through this channel, they can share photos, messages or events. The Fitness feature lets users set up, track and manage fitness programmes. From here, users can download and complete a number of exercises, categorised into Yoga, Strength, Abs, etc. The 'gameplay' is similar to that of the Wii, and each exercise programme displays how long it will take to complete and the amount of calories users can expect to burn.
The Kids feature provides a recommended list of education-related apps and content that can be easily accessed and used by children. It also provides management control tools, which allows parents to check how long their kids have viewed an app, video or content, and also lets them set limits for how long their children can access content. From here, parents can also create sticker books for their children, and reward them for good work, doing their chores, etc.
Schedule Manager lets users schedule their favourite shows; Social TV lets users stream movies, videos and music from the Internet and access apps; and Your Video lets users browse, stream and purchase videos, provided this service is offered in their country.
I would definitely recommend connecting a keyboard and mouse to the TV when browsing the Internet, as surfing using the remote control is incredibly tedious and slow. However, there is something to be said for watching YouTube videos on a 46-inch LED screen.
Users can also access Skype on the 6200, but this requires the purchase of a separately sold camera kit as well as the Skype app (free), but I imagine it would be useful to families contacting loved ones overseas, as they could all sit in front of the TV and chat simultaneously.
The one thing that truly impressed me about the 6200 is its ability to read just about any file from a hard drive, unlike my own entertainment system (which is also a Samsung), thanks to its ConnectShare functionality. I had two hard drives connected at any one time (there are three USB ports), making the 6200 a very effective media player, too. While switching between drives was easy, the only gripe I had was that it was sometimes very slow in doing so and in initially accessing the hard drive. Once in though, browsing content was quick and easy.
I thought the placement of the USB ports was a bit odd. If users choose to mount the TV on the wall, accessing these ports will be very difficult. Perhaps a more intuitive place would have been on the side of the TV?
The 6200 also features Samsung's AllShare Play functionality, which lets users access content on devices that are connected to the same network. This means they can look at photos, listen to music and watch movies stored on their smartphones, tablets or PCS on the TV without the annoyance of first transferring the content to a USB device.
The HT-E4500K entertainment system has similar functionality to the Smart TV, including Smart Hub, AllShare Play, a Web browser and ConnectShare. The problem with this - besides the fact that they become redundant, as they are available on both devices - is that the features seem to compete for attention when being used simultaneously, so you may think you're accessing your personal profile on the TV's Smart Hub when the DVD player's Smart Hub appears and your profile isn't there.
It doesn't help, either, that the remote controls are almost identical, which just adds to the confusion.
That being said, the AllShare Play displays all connected devices in a single view, allowing for easy access and switching between devices. What's also neat is that you can choose to access just the movies, just the photos, or just the music on a particular device, so the content is automatically sorted for you.
Additional features
There are two features on the HT-E4500K that I just have to mention, possibly because of their novelty.
The first is the My Karaoke feature, which cleverly removes the recorded singer's voice, leaving only the background music, setting the stage for users to live out their rock star dreams. What's more, they can even record their masterpieces to submit to record labels or use as blackmail against friends who should not be allowed near a microphone.
I didn't have a mic to test this feature (much to my neighbour's relief, I'm sure), but there is support for two mics, which means dinner parties will be a lot more fun at your house.
The second feature is the DVD player's ability to rip music from CDs onto a USB device. Genius. This means users no longer have to copy the CD onto their PCs before ripping it onto a disc or USB device. The ripping process itself is easy and quick, and ripped music is saved onto the USB under 'unknown artist' in its own separate file. Very handy, indeed.
In a nutshell
I love the Samsung Series 6 6200 Slim LED Smart TV. It was very difficult returning it. The gaping empty space that remains in my bedroom where the TV used to be is a stark reminder of our fleeting relationship. I feel compelled to go TV shopping this weekend.
I struggled to fault the TV, other than its heavy Internet dependability and the fact that it always seems to be updating. This means the full smart functionality will be lost on those households that do not have a stable connection.
The HT-E4500K Blu-ray 3D/DVD home entertainment system complements the 6200 perfectly, although using them together can be confusing due to their similar features and functionality. That being said, the sound produced by the HT-E4500K is phenomenal and the novelty features add to its appeal.
Having both these devices in your home is reason enough to wait for movies to be released on DVD, purely because the experience is so much better than the cinema, especially when watching 3D movies.
And they're not badly priced either.