FAA to test drone-jamming in airports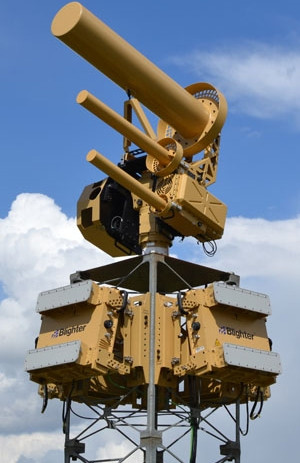 The US Federal Aviation Administration (FAA) says it will be trialling a UK-developed system for jamming signal to small drones at several airports in the US.
The Anti-UAV Defense System (Auds) uses a thermal imaging camera to target unauthorised unmanned aerial vehicles (UAVs), before jamming signal to them via a high-powered radio signal, rendering them unresponsive to control by their user.
Auds was developed by British companies Blighter Surveillance Systems, Chess Dynamics, and Enterprise Control Systems. The system's physical setup slightly resembles a mounted ray gun in that it features three barrels of varying sizes pointed in the same direction. The barrels act as directional antennas, refining the jamming signals so they affect the area specific to the drone. This mitigates a common pitfall of multidirectional signal-jamming systems that work on drones, which tend to disable all devices in the area that rely on the same band of spectrum, in all directions.
While drone use in many countries, including the US, is strictly regulated, users often disregard these regulations, either with purposeful malicious intent, or with unintentionally catastrophic result.
Despite global prohibitions against flying a drone within a specific distance from an airport, multiple incidents have been reported in multiple countries of drones flying close enough to planes to cause crashes. In April, a passenger aircraft was hit by what is believed to have been a drone as it prepared to land at Heathrow Airport.
In 2015, a drone halted fire-fighting helicopters in the US as it flew over a raging wild fire, presumably to allow a hobbyist to photograph the blaze.
Drones flying near to politicians' residences or public appearances have also incited security alerts.
"As the legitimate use of [UAVs] becomes more prevalent in many industries, unfortunately this large number of aircraft also makes them readily available for illicit use," said Thomas Scott, President of Liteye Systems, which distributes Auds in the USA, in a comment about the FAA trials.
The FAA is not the only aviation authority coming to grips with these emerging hazards. In February, Dutch police were reported to be testing trained eagles as a means of grabbing prohibited drones out of the air.