Thinking mobile first
It is critical for enterprise players to start batting on the mobility field.
Yes, mobility is not a new point on the CIO agenda, but promoting its benefits to the board is still challenging. The CEO and senior management want to see improved business intelligence, just-in-time data, and how mobile data can be better shared and analysed to improve the customer experience at the lowest cost. But, how does IT unpack what it can do with mobility to firstly meet the CEO's expectations, and secondly leverage mobility as a new business channel?
Mobility is an area that is constantly evolving and innovating, as a direct response to the desire of consumers to be mobile - business must move fast in order to stay competitive and to meet employee demands and expectations.
The biggest inhibitor, however, is legacy systems - systems that are unwavering and uncompromising. This calls for a new approach - a mobile first approach to how to develop future systems and applications.
Innovations on the go
Mobile vendors such as Apple have already developed new features such as "handoff", which allows individuals to continue working seamlessly from a MacBook to an iPad, and Apple "Document Provider" extensions to better share content between iOS apps. Google has done the same with devices on Android Lollipop; offering improved user experience and integrated real-time information through Google cloud services.
Microsoft has also made a strong play for mobile in the workplace, with Office for iPad, and then a more "start-menu-friendly" Windows 10 with one OS experience across all devices, and exploring new areas in cloud services with APIs for Office 365 and OneDrive. Samsung is making its own play with Samsung KNOX, which was launched to address security and mobile device management pain points and Reach 3.0 for content management.
These players are starting to see the true benefits of tightly integrated software where security and management come first. This, together with new developments being primarily conducted on HTML5 and HTML6, which then tie into the compute and storage capability of the mobile cloud, coupled with a single user interface for multiple device operating systems - means users can enjoy the real-time computing power benefits of the cloud in a phone.
Getting mobility right
With the mobile players getting it right, it is now critical for the enterprise players to start batting on the same field. All applications developed from here on out must have a mobile hook, and must support cross-platform applications, allowing business to devoid itself of fixating on devices and focus on what is important - connecting users to applications.
This is all fuelling the move to a mobile first strategy. IDC predicts IT organisations will dedicate at least 25% of their software budget to mobile application development, deployment, and management by 2017, and the number of enterprise applications optimised for mobility will quadruple by 2016.
That's huge and speaks volumes to IT. But locally, IT departments are still fairly reluctant in their mobile strategies. Why? Well, firstly, there is simply a lack of understanding about mobility and there is a fair amount of fear around critical data loss.
All applications developed from here on out must have a mobile hook.
Mobile first doesn't mean buying iPads and iPhones and giving staff access to Salesforce.com on the move - it also isn't just about deploying a BYOD policy. It's about getting under the skin of how employees want and need to work; knowing what data employees need to access; seeing how the customer experience can be improved; and understanding how mobile is crucial to addressing these needs and challenges. The next step is to start developing solutions that will get business-critical data and applications onto mobile devices rather than desktops.
For many IT departments, BYOD would be the perfect way to mobilise this quickly. But let's be honest - how many staffers are happy to bring in their own devices into the business? And then how many companies have policies that simply don't allow this?
Bringing it together
So, what is the first step? When planning mobility projects, the immediate need is to identify the desired user experience and earmark adequate budget. Look for the 'mobile moment' - how can the IT department then harness what the user wants and leverage this in the enterprise. Always remember that if the end-user demand cannot be demonstrated, and pain point areas cannot be revealed, then the opportunity for justifying mobility is far lower.
Companies like Salesforce.com are championing a true mobile first approach by building applications for mobile devices before desktops. If other large vendors follow its example and start developing business applications for personal devices first, there'll be a large chain reaction, as more and more people drive applications into the mobile cloud.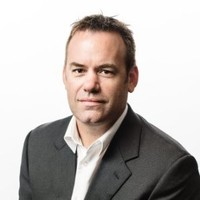 Regional Director, Splunk

Nick Black opened the Splunk office in Johannesburg in early 2019. He has built a world-class team of professionals that address all the fundamentals of driving value into the South African economy through innovative and disruptive technology stacks. Prior to joining Splunk, Black spent five years at VMware in South Africa and six years at Trend Micro – responsible for the Middle East, Turkey and African markets.