Pule scrapes through - DA report card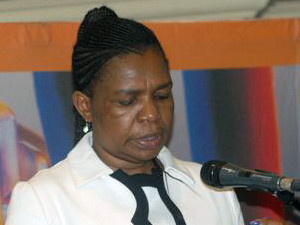 Government has slammed the Democratic Alliance's (DA) Cabinet report card on the performance of ministers - calling it "mischievous and misleading".
The official opposition rated communications minister Dina Pule only a notch above "fail", while Lindiwe Sisule, whose department oversees the State IT Agency and the currently vacant government CIO role, scored a C. Former science and technology minister Naledi Pandor scored an A for her tenure at the department.
Released to the public yesterday, the report card provides the DA's judgement on how SA's president, deputy president and 34 Cabinet ministers fared throughout the year.
The evaluation document allocates scores to each, based on what the DA dubs "qualitative broad criteria", including policy direction, attitude towards accountability and attendance in Parliament, and finance and administration.
Ministers are graded from an A to an F - with the former being best and the latter the worst performance for 2012. This year, the government collective scored just two A ratings and three Bs - with the opposite end of the scale yielding six Fs and five Es.
ICT assessment
In the DA's eyes, the ICT sector could improve, with the relevant department ministers on the whole scoring feeble grades. Pule's performance was rated as an E. Sisulu's mark was an average C.
On the upside, for the second consecutive year, the DA has rated Pandor as an A performer, for her previous position. Last year, the DA said Pandor's biggest achievement was her dedicated lobbying for SA to host the prestigious Square Kilometre Array (SKA) telescope.
"Winning the bid will establish SA as a leader in innovation, science and technology, and will have numerous enterprise and job-creation spinoffs."
Pandor's efforts paid off to a large extent in May this year, when SA was chosen as a dual host party for the SKA - the largest radio telescope ever built - together with Australia and New Zealand.
Failing dismally
Leading the worst performers, according to the DA's criteria, were president Jacob Zuma, minister for performance monitoring in the Presidency Collins Chabane, labour minister Mildred Oliphant, police minister Nathi Mthethwa, minister of state security Siyabonga Cwele, and agriculture, forestry and fisheries minister Tina Joemat-Pettersson.
The DA says Zuma failed comprehensively to provide effective leadership in government, "failing to solve crises that were often preventable and regularly being a direct cause of the challenges faced by government".
Olifant, says the DA, failed SA's labour industry because she was "missing in action during a number of SA's biggest labour disputes since the end of Apartheid".
E-rated ministers include economic development minister Ebrahim Patel, minister for justice and constitutional development Jeff Radebe, Lulu Xingwana for women, children and people with disabilities, and mineral resources minister Susan Shabangu.
Amid the protracted e-toll debacle, transport minister Ben Martins scored a D rating.
Cabinet kudos
Another top candidate, on par with Pandor - according to the DA - is health minister Aaron Motsoaledi - with tourism minister Marthinus van Schalkwyk, trade and industry's Rob Davies and finance minister Pravin Gordhan rated highly, with Bs.
The DA says 2013 will bring a whole new set of challenges for SA's executive - some of which will be a continuation of the "crises" SA has faced this year. "Others will be unavoidable, while others can still be prevented if action is taken wisely."
The opposition party adds: "It is essential that our government is held to the standard of bold leadership at all times, by a president and Cabinet who put the interests of South Africans above their own."
Perverse perspective
Acting Cabinet spokesperson Phumla Williams says the DA scorecard is, by virtue of its context, "inaccurate, mischievous and ignorant".
Williams notes that government's performance cycle runs from April to March and calls on South African citizens "not to be misled by ill-informed scorecards".
She says Cabinet ministers have entered into performance agreements with the president, not the media or any political party. "Furthermore, Parliament is the body that provides oversight, not individual political parties."