Home affairs taps banks in smart ID rollout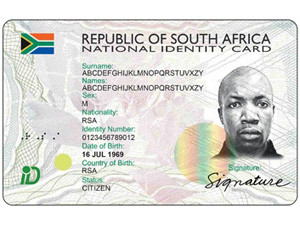 The Department of Home Affairs (DHA) will from next month launch a pilot project that could eventually see banks handling applications for smart IDs.
Spokesman Mayihlome Tshwete explains the pilot phase is not yet fully functional, but the department has signed memorandums of understanding with Standard Bank, First National Bank and Nedbank. He anticipates Absa will come on board soon.
Tshwete says the pilot phase will kick off by the end of next month and will run for half a year. During the initial stage, it will be targeted at bank staff, he adds.
Should the initial phase prove to be successful, it will be extended to the public, says Tshwete. He explains the move is a bid to widen the department's footprint so it can roll out more smart IDs.
Smart IDs are replacing the traditional barcoded ID book and have enhanced security features. So far, says Tshwete, the department has issued 1.6 million cards, meeting its 2014/2015 target.
Tshwete adds issuing 38 million new IDs "is not a small thing" and the department is taking strain because of the number of applications it receives.
Home affairs is set to increase its rollout targets on the back of the project, says Tshwete. He notes the department will continue to do "all the work", and that banks will just handle applications.
The transition from ID books to smart IDs will take place over six years, with the first two years targeting pensioners and people who are receiving their first ID cards. The smart ID card rollout forms part of the DHA's modernisation programme, which is currently being rolled out in a bid to provide secure and efficient services to all citizens.
The DHA has identified the introduction of smart ID cards and new passports as the leading elements of its modernisation programme. So far, of the 403 home affairs offices, 110 are equipped with the Live Capture system. This figure is anticipated to reach 140 offices by March.
The smart ID programme kicked off in May 2013, when Altech Card Solutions won the R40 million contract to provide the Government Printing Works with card personalisation equipment. Gemalto Southern Africa has a deal, estimated to be worth R199 million, to supply pre-printed polycarbonate cards, containing a contactless microchip.
Moving to the new system will cost South Africans billions, as each identity book will need to be swapped for a card at a cost to individuals of around R140. Home affairs will phase in this process, based on birth months.