Paris Mashile on shortlist for ICASA board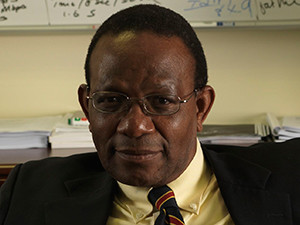 The process to find new councillors to sit on the Independent Communications Authority of SA's (ICASA's) board has reportedly moved one step further, with former chairman Paris Mashile remaining on the list.
Communications minister Faith Muthambi reportedly recommended four names of possible candidates to Parliament yesterday to fill spaces on the board that have been vacant since October 2014.
Twelve names were shortlisted last May, and then cut to seven. Business Report has named the four remaining nominees as Mashile, as well as Peter Zimri, Botlenyana Mokhele and Keabatswe Modimoeng.
DOC spokesman Mishack Molakeng declined to confirm the names put forward by the minister, saying "the process of nominations for the ICASA councillors is subjected to the parliamentary processes and it cannot be pre-empted".
At least two of the reported names are regarded as industry veterans, while three have previous history with the regulator. Mashile spent five years as ICASA chairperson before handing the reins to Stephen Mncube in July 2010.
Zimri is a frequency spectrum specialist who was senior manager for spectrum at the authority between 2002 and 2004. Following his two-year tenure at ICASA, Zimri served as director at the then Department of Communications for three years.
Mokhele is a consultant at Pygma Consulting and was previously a researcher at ICASA. She also spent a tenure at the Department of Communications from 2007 to 2012.
Modimoeng worked as a business and labour journalist at the Sunday Times before working in communications for a number of big corporates. He currently sits on the board of the South African Weather Service and was previously shortlisted for a spot on the SABC board.
Former frontrunner, Lumko Mtimde, seems not to have made the cut. The former head of the Media Development and Diversity Agency faced some pushback when his name was originally shortlisted.
The Democratic Alliance (DA) at the time rejected his appointment, saying ICASA needs councillors whose instincts are to promote media freedom, not to curtail it. This as the DA claimed Mtimde was "openly and unapologetically supportive of the Media Appeals Tribunal first proposed by the ANC back in 2007". Mtimde's name was linked to more controversy after he was barred from being in the running to chair the SABC board, after his CV was not lodged with the entity in time.
ICASA's council has been short of a number of members since October 2014. Muthambi ushered out William Currie, Joseph Lebooa, William Stucke and Ntombizodwa Ndhlovu over a year ago, while another councillor, Marcia Socikwa, resigned in January 2015.
ITWeb understands the nominations now move to the Parliamentary portfolio committee on communications which plans to discuss the possible appointments later this month, after which the National Assembly needs to provide approval.