JavaOne 2016: Boost for cloud app developers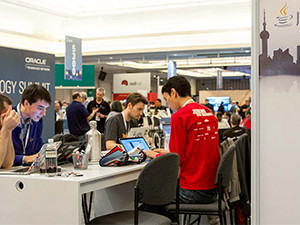 Oracle has unveiled cloud services, development tools and a range of developer-focused initiatives.
This was revealed at the JavaOne 2016, a technical information and learning event that runs concurrently with the ongoing Oracle Open World Conference in San Francisco.
Oracle says by giving developers a choice of programming languages, databases, compute types, operating systems and virtual machines, integrated development environments and tools, the company provides developers with the choice and flexibility needed to build modern applications in the cloud.
It notes that as cloud deployment becomes the norm for enterprise workloads, developers need to build applications using micro-services, APIs, containers, DevOps processes and platform capabilities that support analytics, integration, mobility and the Internet of things.
Oracle has enhanced its development tools and cloud services, and introduced other initiatives in order to give developers access to the latest technologies in the cloud.
XHEad = MySQL and Oracle Cloud
At JavaOne 2016, Oracle showcased major enhancements to the Java Platform and the introduction of MySQL, the world's most popular open source database, to the Oracle Cloud Platform.
In addition, Oracle shared details on new Oracle Cloud Platform services that are specifically designed to support developers, and introduced a new Web portal, developer.oracle.com, that provides developers with a single place to find the tools, technologies and resources needed for any development project that uses Oracle technology.
To help developers meet the demands of new cloud-based models, Oracle says it continues to work closely with key partners in the Java ecosystem to drive significant evolution of the Java platform.
Helping developers innovate and carry out digital transformation initiatives, Oracle unveiled Oracle MySQL Cloud Service. Built on the MySQL Enterprise Edition and powered by the Oracle Cloud, Oracle MySQL Cloud Service enables organisations to develop and deploy MySQL-based applications globally at scale, the company says.
In addition, Oracle is introducing Oracle NoSQL Database Cloud Service and Oracle Exadata Express Cloud Service.
Oracle NoSQL Cloud Service provides a database supporting JSON, Java, Node.js and Python developers for transactional and big data applications.