Pick n Pay in online shopping power play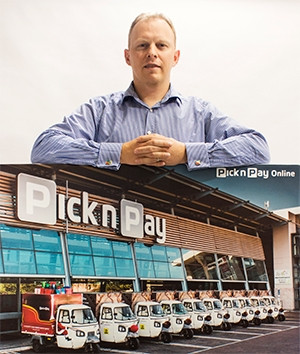 Grocery retailer Pick n Pay is enjoying a purple patch with its online shopping offerings.
The retailer recently unveiled its new online shopping Web site. Designed to work alongside the recently re-launched mobile app, Pick n Pay says the Web site has been built to offer greater convenience, wider choice, more promotions and lower prices to its fast-growing base of online shoppers.
The Web site is geared towards customers on the move, catering for the rapid growth and use of smartphones on the continent.
Responding to ITWeb via e-mail following the launch of the Web site, Mike Cotterell, head of online shopping at Pick n Pay, said: "We are very pleased with the growing contribution that online sales make to our business and we are investing for the future."
Distribution centres
He noted that thanks to the rapid growth of the online business, necessitated by a dedicated warehouse in Cape Town, Pick n Pay has now opened a larger warehouse in Gauteng and the results so far are very pleasing.
"Our new dedicated online distribution centres have allowed us to create a wide range of products for customers, and to experience our ability to fill and deliver their orders on time and in full. Our service also enables customers to collect products ordered online in some stores as an alternative to having them delivered.
"Our online store runs regular campaign activity throughout the year, mostly in line with national campaigns across all formats. From time-to-time, we run online-specific promotions to reward our online customers and attract new ones. We often run 'free delivery' campaigns where we offer a voucher covering the cost of delivery. We find this encourages customers to trial the service," Cotterell said.
According to Cotterell, Pick n Pay is the largest online grocery business in Africa and it's very popular with customers. "Our offer is particularly attractive to those who like to use technology, including smartphones, and has grown as the cost and speed of Internet connectivity has improved."
The most popular products selling online are dry groceries - from coffee, sugar, milk, and soft drinks to toiletries, and cleaning products, Cotterell points out. "These remain the most popular category, but we are seeing increasing shifts to other categories like fresh, convenience and liquor."
Customer experience
Pick n Pay says the new Web site is designed to improve the shopping experience for existing customers, as well as to help uninitiated consumers make the transition to online grocery shopping.
Improvements to the client experience include better search and navigation, improved product information, faster checkout and more delivery options, it notes, adding that online shoppers can also create shopping lists and view their purchase history at the click of a button, easily adding previously-bought items to their trolley.
The grocery retailer believes all of this is geared towards making online grocery shopping as quick, convenient and intuitive as possible.
"Our biggest considerations in building the new site have been convenience, cost and range," says Georgina Muirhead, head of customer experience and mobile. "We're giving our online shoppers enormous choice so that they can create the grocery shopping experience that really works for them. From choosing the exact brand of tomato sauce they want to selecting a specific delivery time, down to the hour, it's all about grocery shopping fitting in with our customers' lifestyles - not the other way around."
The online retailer offers more than 15 000 products and delivers six days a week, from Monday to Saturday, until 20h00. Shoppers also have the option to collect their groceries, free of charge, from selected Pick n Pay stores across SA.
This Click n Collect service means their groceries are picked, packed and waiting for them, in-store and at the correct temperature, at a time they have chosen.
"All products are hand-picked by trained personal shoppers, which means our customers are guaranteed the freshest products that have been personally picked for their orders. And if a customer isn't happy with a product they receive, they simply return it with their driver for a full refund."
The new Web site will work in conjunction with the mobile app and the company's dedicated online fulfilment warehouses and new fleet of delivery trucks, said Cotterell.