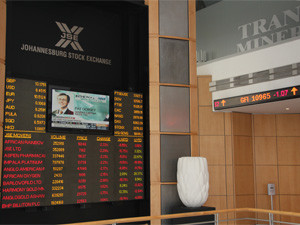 Shares in JSE-listed Telkom plunged to a new low yesterday, after the company said it expected lower earnings in the first half.
The shares have now lost R11.8 billion in total value since the group spun off Vodacom and paid out a special dividend around three years ago.
The stock closed at R15.80 yesterday - its lowest closing price since it unbundled Vodacom in 2009 - a close that an analyst says is ironic, as both MTN and Vodacom hit record highs this week.
Telkom's market capitalisation is now only R8.2 billion, compared with its previous subsidiary Vodacom, which is worth R175.6 billion - more than 21 times the listed value of Telkom.
Telkom has had a trying 2012, as it lost several top executives, including CEO Nombulelo "Pinky" Moholi; reported poor annual results with interims expected to be much lower than last year; it was hit by a fine for anti-competitive behaviour; and Cabinet binned a proposed R3.3 billion investment into the group by KT Corporation.
Investors are hesitant to put money into the stock until there is certainty about the company's future. Communications minister Dina Pule and an inter-ministerial task team have been working on a turnaround plan, but this has yet to be made public.
Government is Telkom's single biggest shareholder, with almost 40%, while the Public Investment Corporation (PIC) has about 10%. At the end of March, institutional and retail investors - including the PIC - held 58% of Telkom's stock. The company has almost 2% of its own shares in treasury, and 79% of shares are held by South African entities.
Eating into earnings
This week, the group warned that earnings per share from continuing operations are expected to be between 78% and 83% lower than the first half of last year when it reports results on Monday. Telkom added that basic earnings per share from continuing operations are likely to come in between 62% and 67% lower.
For the six months to September 2011, the group reported operating revenue down 3.2%, to R16.4 billion, and higher operating expenditure of R15.4 billion, mostly due to its impairment of iWayAfrica, higher depreciation and costs relating to its mobile arm, 8ta.
Last year, headline earnings per share from continuing operations for the first six months came in at 297c, while basic earnings per share from continuing operations were 291.5c.
At full year, the group said operating revenue was flat at R33.1 billion, and although it reported headline earnings of R1.658 billion, its after-tax profit from continuing operations dropped 93%, to R179 million. It made a R269 million loss from discontinued operations.
Its interim results will be affected by an "increase in the provision" for the Competition Tribunal fine of R449 million for "transgressions of the company dating back approximately 10 years". Telkom is contesting the fine.
Ironic
Vesact analyst Sasha Naryshkine says Telkom's new low post-Vodacom is ironic as both MTN and Vodacom hit all time high share prices this week. He points out that yesterday's closing price is a new low since Telkom unbundled Vodacom in 2009.
Yesterday, the share price closed at R15.80, losing 64c or 3.89% on a day the JSE's All Share index closed at 37 027, after opening at 37 081.
Naryshkine says Telkom shares closed at R38.50 after paying out a special dividend on proceeds from spinning out Vodacom. The R19 dividend came to a total payout of R9.8 billion, he adds.
Since the payout, Telkom stock has slid R22.70 a share, which has knocked R11.8 billion off its market capitalisation, which was R8.2 billion as of yesterday's close.
Telkom has returned nearly R12 billion to shareholders since it spun out Vodacom, says Naryshkine. He points out that this return is more than its current market capitalisation.
It is "crazy" that Telkom is trading at these levels considering that it values its assets at R36.16 billion, which is just more than four times what the market considers the company to be worth, says Naryshkine.
The market could be thinking that Telkom has no way to leverage its assets, or that they are not worth as much as what the company carries them at on its books, says Naryshkine.