Build-your-own laptop kit available in SA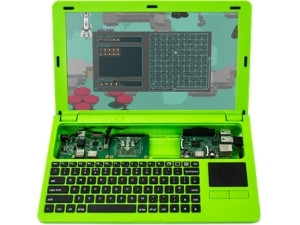 The pi-top, a build-your-own laptop kit, is now available in SA from distributor, RS Components. The laptop runs on the low-cost computer board, Raspberry Pi, and costs just over R4 500.
The pi-top started as an Indiegogo project in 2014. It was not developed by the same company that created the Raspberry Pi.
RS Components says now that pi-top has scaled up production after crowdfunding efforts, it is able to offer it to the South African market for the first time.
The kit aims to extend the functionality of the Raspberry Pi board, and help educators and makers "learn, play and create".
"The pi-top is ideal for students to learn about programming, computing and hardware creation, including electronics fabrication. It also teaches students transferable skills that will help them to create their own hacker and maker hardware projects," RS Components said in a statement.
The kit does not require users to use a soldering iron, but does build other skills like creating printed circuit boards and 3D printing the pi-top case. This is facilitated through step-by-step online tutorials and lesson plans.
The kit comprises a 13.3-inch HD LCD screen, smart battery, trackpad, programmable keyboard, 8GB SD card pre-installed with pi-topOS, Acrylic slice, WiFi dongle, power supply and image-based build manual.
The pi-top OS comes with CEEDUniverse, a game that teaches users how to code, build circuits and make hardware with their Raspberry Pi.
The pi-top has been designed to be upgradeable and will work with all current and future versions of the Raspberry Pi.
"It is easy to swap out older boards for newer ones when released, meaning users can upgrade their pi-top laptop for the price of a new Pi board," said RS Components.
The pi-top is available in grey and green.
[VIDEO=jb6hVe1fRzI]