Major boost for SA's research infrastructure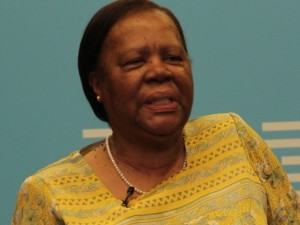 A national centre for digital language resources and a nuclear medicine research facility are two of the 13 research infrastructure projects planned for South Africa.
More than half a billion rand has been earmarked for research infrastructure in the next three years, science and technology minister Naledi Pandor said on Tuesday. Another R1.3 billion would need to be raised to realise the government's ambitious plans for research infrastructure.
The South African research infrastructure roadmap, unveiled on the side-lines of the International Conference on Research Infrastructures in Cape Town, is the first of its kind on the African continent.
In order to train students and produce high-calibre research, academics and researchers require research infrastructure. But large infrastructure is expensive and its cost cannot be borne by one institution alone, particularly in a time of reduced university subsidies and a cap on student fee increases.
The roadmap lays out not only scientific infrastructure, such as biobank facilities to store genetic samples and nano-micro manufacturing facilities, but also humanities research infrastructure such as a national centre for digital language resources to promote and build knowledge about South Africa's indigenous languages.
"World-class research infrastructure is the basis for building competitive knowledge-based activities," Pandor said at the launch. "Such research infrastructure attracts the best scientists and innovators."
Out of 13 planned projects, seven would be established in the 2016/17 financial year: a national centre for digital language resources, an expanded environmental observation network, a nuclear medicine research facility, a network of health and demographic surveillance sites, a natural science collections facility, shallow marine and coastal research infrastructure, and a distributed platform for "omics" research (which includes genomics research, among other areas).
The other six, which are pencilled in for 2017/18 to 2020/21, are biobanks: a marine and Antarctic research facility, nano-micro manufacturing, solar research, and material characterisation; and a biogeochemistry platform.
"This allows us a more rational approach to medium-term research infrastructure investment," says Dr Thomas auf der Heyde, deputy director-general for research development and support at the Department of Science and Technology.
Most calls for research infrastructure funding occur on an annual basis. "Out of that process, you don't develop a long-term plan for research infrastructure," he says. "We felt this is a gap that needs to be closed.
That is not to say that government, through the Department of Science and Technology, has not been bankrolling large infrastructure. It has spent in the region of R7 billion in the last eight years, including R1.5 billion for cyber infrastructure and R3.5 billion for the Square Kilometre Array."
Infrastructure roadmaps are becoming increasingly common in the research landscape, the roadmap authors write. "They allow funders to budget knowing what can be expected ... and force researchers to come together to share their ideas and work for the national good."
But not all the money is there. The roadmap needs in the region of R501 million in 2019/20 and R827.5 million in 2020/21. "We think that three years is enough time to negotiate a suitable approach to funding this roadmap with Treasury and other government departments," Auf der Heyde says.
John Womersley, chief executive of the United Kingdom's Science and Technology Facilities Council, says the roadmap "looks good". "It shows a real focus on areas that are relevant to SA's needs, like the ecosystem and language projects, or exploiting existing strengths like nuclear medicine," he says.
His only "disappointment" was the lack of a "more holistic approach that also included the international projects like the Square Kilometre Array and European Synchrotron Radiation Facility".