Team ITWeb, powered by Didata, prepares for 2016 Absa Cape Epic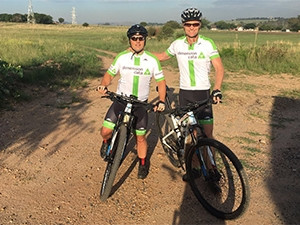 There is only a little over a month to go before the start of the 2016 Absa Cape Epic, when Robert (Rob) Mace and I sit down to discuss his preparation for the upcoming mountain bike race late one Friday afternoon. The affable quadragenarian is wearing his quintessential broad smile, but is under no illusions about the enormity of the task ahead for him and Jean-Paul (JP) d'Abbadie, his teammate in Team Dimension Data-ITWeb in the eight-day race.
"I wouldn't consider myself a big mountain biker and this is a big race. I got into it because of the opportunity provided by Dimension Data and I'm pretty nervous about it. The training has gone really well. I've lost weight and I've actually surprised myself with how fit I've become," Mace says.
"I'm also optimistic, but there are a lot of things that can go wrong. You can get sick or fall off a mountain bike and injure yourself before or even during the race, which means that you may not finish. I'm confident, let's see what happens."
The 13th edition of the Absa Cape Epic next month will be a race like no other, says d'Abbadie. The Joburg-based Durbanite, who has participated in several events on the South African mountain biking calendar over the years, anticipates the eight-day adventure will be unmatched.
"I've done Berg and Bush about three or four times, wines2whales twice and sani2c but nothing compares to an Epic ride. I have ridden, but nowhere near as much as this."
Their appraisal of the precariousness of the Absa Cape Epic is spot on. The race organisers say the 2016 route will contain more single-track than ever before in the race's 12-year history. It will also include more climbing along the 647km route than ever before.
"The longest stage of the race is longer than I have ever done in practice and that is something we need to do before the race. I have not ever done more than 100km on dirt in my life," Mace explains.
As part of Team Dimension Data-ITWeb, Mace and d'Abbadie have benefited from professional coaching by Ian Martin, from training club Coach 1, since November last year. Even so, Mace admits that five months before the race could count as a 'late start', considering that organisers recommend racers start preparing a year before the race.
"Ian monitors all the training rides we do remotely. We wear a device during training that transfers data onto software called Training Peaks, which allows him to see what we need and where we are lacking and whether we are doing well," says Robert. "He monitors our fatigue levels, fitness, strength and all of those things. We get daily e-mails that set out what needs to be done. Even if it is a 'rest day', we actually do cycle slowly and it is apparently better to do that than nothing at all."
d'Abbadie took the full package with coach Martin. "I speak to him every second day. We ride with the club on weekends and I've lost a lot of weight and I've improved on my fitness quite substantially. I've also been on a strict diet and lost about 7kg since we started at the end of October.
"The coach is also training a few other people in the club for the same race. The Epic is a race that requires a lot of training and we are going to be on the saddle for many hours each day. It will be daunting, but exciting as well."
About 60 other club members are preparing for different cycle challenges, including road rides, championships and provincial events, in addition to those who, like team Dimension Data-ITWeb, are toiling with the Absa Cape Epic in mind.
"We actually rode the Berg and Bush in 2014, so we have ridden together before. Look, Rob is a lot stronger than me, but the whole thing about a partnership is that you have to agree on your strategy and your plan. We've discussed it and we agree on what our goal is. And obviously we will just make sure that we don't tire one another out because the one is trying to keep up with the other," d'Abbadie says.
"We compare notes about the training and how each of us feels, because the training goes through cycles. You go through times where you feel really good and others where you feel slow and sluggish, when other guys seem to be doing better. Some days are better than others," Mace agrees.
They cover over 200km a week in training, and while Mace only has to complete up to four rides a week, d'Abbadie is currently doing up to seven, in accordance with Martin's recommendation. Training can go on for up to four hours on the mountain bike each session. Mace is also on a limited sugar diet, which he says has made him leaner.
d'Abbadie will be taking his GPS and heart rate monitor to the race. He has used the two devices in conjunction with the Training Peaks programme, which he says is scientific and has given him data on climbs and other important aspects of his ride.
Even in training, things are tough, says Mace: "I injured my back on Tuesday and I haven't ridden this week. I went for a training ride on Wednesday and it was too sore, so I stopped riding. And I'm going to miss out this whole weekend. I'm getting some treatment for the injury, which happened in the gym while I was picking up a weight. JP will be doing the five-hour ride that is planned nevertheless."
Three days later, d'Abbadie mutters and gives a quick giggle in response to my questions about the weekend before our conversation. Turns out he braved a four-hour ride on the Saturday, followed by a seven-hour ride the Sunday. Although the weekend's two rides were without incident, he still remembers vividly a cycling injury from November, but underplays its seriousness.
"I wiped out and got a few bruises and scraped a bit of skin off my hands, but it was nothing hectic. The race was over two days and the injury happened on day one, but I rode the whole thing - day one and two - although it was a bit painful. It took three weeks to a month for me to heal completely."
Mace enjoys the support of his wife, who he says is taking more interest in the race over time. Team Dimension Data-ITWeb is also backed by Mace's employer, ITWeb, and Dimension Data sponsored his kit.
"My wife, in particular, has bought into it although she is not an extreme sports person. She understands that it is a big deal. I get up at four in the morning and dogs start barking and it can get quite tedious, but she has been very supportive and has met some of the bikers. Everyone knows that you are doing it - all your family and friends - and you don't want to come home and say that you did not finish because you'd have to live with that for the rest of your life - unless you break something on the bike and you cannot fix it or you break a bone and cannot continue. If I broke the bike, I would run to the finish before the cut-off time, in line with rules."
Coming from a close-knit family has afforded d'Abbadie tremendous support. When he is off the mountain bike, he is the MD of a successful family business that was founded by his father in the 80s. "My mom and dad and sister all live in Durban, but they know I'm riding this race and my girlfriend also knows and she has also been supportive. I enjoy the support. It's all good."
Team Dimension Data-ITWeb has no ambition to lead the race at the end of the seven days. According to Mace, they only wish to finish and test their physical, mental and teamwork skills. Mace says d'Abbadie has shown mental fortitude and commitment, which bodes well for their partnership ahead of the race. The two of them have never been tested to this extent, and Mace quips that this could either enhance or break down their friendship.
d'Abbadie feels his determination to carry on regardless of the challenges, and his easy-going nature, are two qualities that will help him achieve the goal of finishing the Absa Cape Epic along with his partner.
Mace's respect for the sporting code has grown in the weeks of training.
"The greatest appreciation I've got is for the bikes. I can't believe that those bikes actually hold together, because they get punished in rough terrain for hours over boulders, crevices and dirt roads."
He is also looking forward to the scenery and beauty of the Cape during the race, as it will allow him to see part of the country that only a few people get to see.
"I used to be more of a golfer, but a friend of mine sent me a message - after they finished a stage in the sani2c - which described the view over the escarpment in the Drakensberg. When I read that message, I realised that I am missing out. That is the sort of stuff you can't see unless you are on a bike or a hiker. I actually want to make a point of stopping and looking around. I know you don't always get a chance to do that, but I will try."