SA start-up eyes Silicon Valley success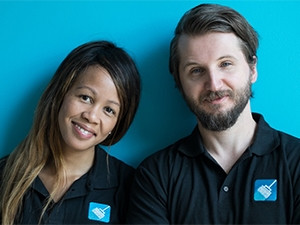 South African tech start-up SweepSouth hopes four months in Silicon Valley will help take its business to the next level.
The local tech-based home-cleaning service last week made headlines when it was selected to be part of California-based venture capital fund and start-up accelerator, 500 Startups.
SweepSouth CEO Aisha Pandor says it hopes the mentorship programme will provide guidance on growth, operations and handling the challenges that come with scaling rapidly.
"500 Startups are seasoned tech investors and understand well how to scale and grow a start-up.
"They have particular experience with on-demand and service start-ups, and have already given a lot of brilliant insight in this regard. They are an amazing global network, and the relationship with them lasts far beyond their accelerator programme and investment, so we are excited to become part of their wider family," she says.
SweepSouth was selected in the most recent batch of start-ups to join the four-month accelerator programme in Silicon Valley. The initiative provides $125 000 (R1.6 million) in gross funding in exchange for 5% equity in the start-up.
"We considered the short- and long-term benefits of being part of the programme, and when taking that into account, the equity sale made sense," says Pandor.
500 Startups was founded by Silicon Valley veteran Dave McClure in 2010 and since then has invested in over 1 000 companies in more than 50 countries.
"Dave McClure is also a marketing guru and we're learning invaluable lessons on how to grow, measure and improve our marketing efforts," says Pandor.
The four-month accelerator programme gives start-ups access to mentorship and hands-on sessions with start-up experts. The programme boasts assistance from a network of over a thousand start-up founders and more than 200 mentors.
500 Startups describes its curriculum as "a start-up MBA on steroids", saying: "We've built start-ups before. We'll make sure you don't make the same mistakes we did."
Growth prospects
At the moment, SweepSouth only operates in South Africa, with services in Cape Town, Johannesburg and Pretoria. Pandor says for now it intends to focus on South Africa, where there is a big market for home services, but if it finds enough success there are expansion possibilities.
"Our model, and the hurdles we've had to overcome around transport and socio-economic issues, fit other emerging markets well. In light of this, other African countries as well as developing countries in Asia and South America, could form part of our long-term expansion plans."
The company enables customers to book home cleaning services digitally through a phone, tablet or computer. Pandor says the uptake in South Africa has been great so far.
"We have experienced double-digit month-on-month growth since launching in June 2014. We do thousands of bookings per month and have been excited to see our customer profile change from the early adopters to a more mainstream home owner."
SweepSouth hopes its exposure to investors and mentors during the 500 Startups process will help take the company from thousands of transactions a month to hundreds of thousands.
"Our goals are to expand our user base and establish our brand in South Africa, and to continue the great growth trajectory we've been on so far."
The funding dream
SweepSouth won the 2014 SiMODiSA StartupSA pitch awards, and has already been successful in gaining funding in South Africa from the likes of Vinny Lingham and Llew Claasen's Newtown Partners, Pule Taukobong's Africa Angels Network, and Polo Leteka Radebe's Identity Development Fund.
Pandor says despite South Africa's start-up scene still being in its infancy, it has grown leaps and bounds over the last five years or so.
"There is definitely enough funding to go around, if start-ups have a good idea, a great team, and some traction. The tech funding landscape has changed a lot over the past five years and there are many players looking to fund promising companies. This funding can come through accelerators, angel investors, or even pitching events."
SweepSouth has already received local mentorship and assistance from Microsoft's BizSpark programme in South Africa, and Microsoft says it is proud and excited to witness SweepSouth's recent success.
"SweepSouth's inclusion in the 500 Startups acceleration programme is yet another milestone that signals to the rest of the world that the South African start-up tech scene is starting to bloom and must be taken more seriously," according to Clifford De Wit, developer experience lead for Microsoft SA.
Silicon Cape chairman Dan Guasco agrees, saying SweepSouth's success is "a momentous occasion in Africa's fast emerging tech ecosystem. SweepSouth's acceptance into 500 Startups validates the quality and global recognition African start-ups are starting to receive and hopefully motivates more to follow."