Ad-blocker debuts in Opera Mini for Android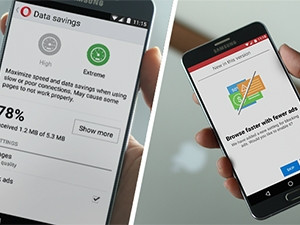 Web browser Opera has introduced a built-in ad-blocker for users of Opera Mini on the Android operating system.
To avoid hiked up mobile data charges and slow-down of the browser, ad-blocking has become particularly significant.
A survey by research firm GlobalWebIndex found that, in the fourth quarter of 2015, 79% of respondents were either already blocking ads on mobile, or were interested in doing so. Speed and data savings were among the top six reasons for blocking mobile ads.
According to an Opera statement, by blocking ads, Opera Mini users can achieve up to 14% in data savings, so that less is deducted from a user's mobile data allowance.
A full-featured Opera Mini browser will now load pages 40% faster with the ad-blocker, notes the statement.
"Our ad-blocker speeds up Opera Mini by stopping ad requests that slow down your browser, making it 40% faster compared to the previous, already fast Opera Mini version," says Nuno Sitima, SVP mobile browsers at Opera.
"This is a frequently-requested feature from users who want faster browsing that's less data hungry and less distracting. Opera Mini is the best choice for a fast browser on any Android phone."
From today, Opera also debuts an ad-blocker in a stable version of its browser for computers.
"Opera is the first major browser to integrate an ad-blocker, for more rapid Web page loading and massive savings on mobile data," says the statement.
"Today's release of Opera Mini for Android also adds speed and performance improvements. It gives you the ability to add Web sites to your device's home screen, so favourite sites are always at your fingertips, and brings a redesigned discover newsfeed for top articles across the Web," it adds.