What are our partners up to?
R&M, our partner based in Switzerland, showcased its latest products at the Anga Com Conference in Cologne, Germany during the week of 12 to 14 June 2018.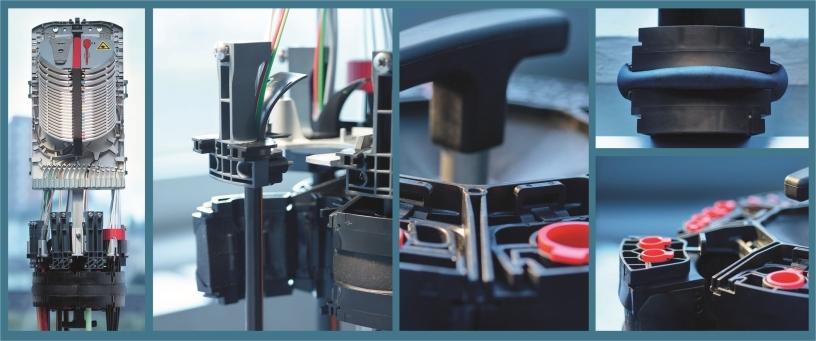 R&M presented the SYNO Dome Closure as a solution for subterranean fibre-optic distribution. This includes a new quick-mounting technology and innovative gel seal. A modular system for cable entries does away with cable threading and at the same time takes on the function of sealing, while the variable cable entry kits support multiple configurations and mixed assemblies.
The range encompasses seven cable entry kits for up to 16 cables. Cables up to 28mm and micro ducts up to 14mm in diameter fit in the kits. The splice closure can be used as a distribution, branch, or cable joint closure.
The company displayed its fibre-optic Field 2.0 field-terminable fibre-optic connector, which enables installers to wire fibre-optic cables in buildings and distribution sites in under a minute, thanks to an innovative clamping device that fixes both the cables as well as the actual core inside. The field-mountable connector can accommodate all standard fibre cables, including butterfly cables.
R&M also showcased its Polaris-box, described as a configurable platform for fibre-optic distributors and terminations on FTTH customer premises. Locations for use range from building entry points on the facade or in the basement. Up to 12 plug and 60 splice connections, as well as two trays for PLC splitters, can be accommodated in the dust- and waterproof housing. Network operators can set up both point-to-point and point-to-multipoint infrastructures with the Polaris-box 6.
R&M's micro data centre telco edge, which makes it possible for network operators to create additional computing performance at the edge of broadband networks, was also announced. This meets the needs of growing data traffic. Suppliers of cloud computing, of services related to the Internet of things and of video and streaming have to move capacities to the edge, to process large quantities of data faster and closer to the consumers, as well as shorten transmission paths and latency times.
Tank Industries, a division of ATC, is an authorised manufacturer and distributor for R&M, in South Africa.
Contact Tank Industries to get more information on these and other products.