Introducing the new FlashArray//X: Shared accelerated storage for every workload
FlashArray//X represents a new generation of storage, powered by NVMe and NVMe-oF. Shared Accelerated Storage unites SAN and DAS into a single, consolidated, shared and fundamentally more efficient data-centric architecture.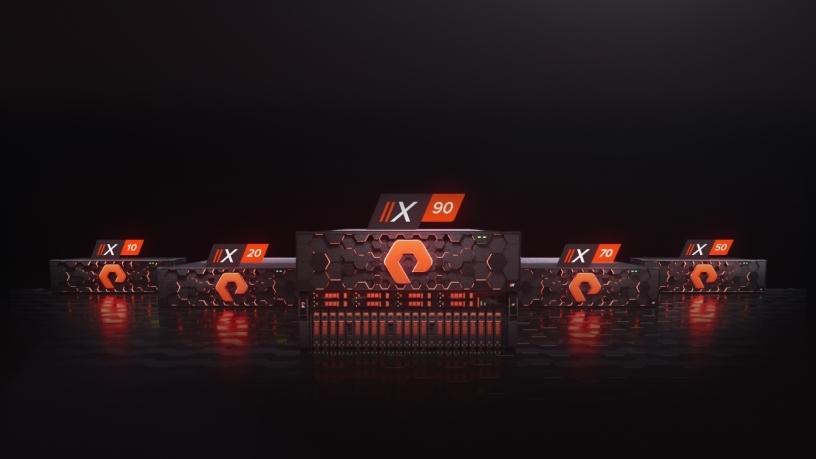 Pure Storage (NYSE: PSTG), the all-flash storage platform that helps innovators build a better world with data, has significantly expanded its FlashArray product line, to now deliver cost-effective all-NVMe Shared Accelerated Storage for every workload.
The new FlashArray//X family makes everything faster: databases, virtualised and containerised environments, test/dev initiatives and Web-scale applications, at no additional cost over FlashArray//M, based on effective capacity.
The all-NVMe FlashArray//X family features five configurations, from the NVMe-ready //X10 for small application deployments to the all-NVMe //X90, Pure's densest, fastest FlashArray to date.
FlashArray//X represents a new generation of shared accelerated storage solutions, a generation powered by NVMe and NVMe-oF, with the potential to unite SAN and DAS into a single, consolidated, shared and fundamentally more efficient data-centric architecture.
With up to 3PBs of effective capacity in just 6U, the //X90 delivers latency as low as 250 us and offers up to a 2X performance improvement over the market-defining FlashArray//M all-flash array (AFA).
An updated version of the born-for-flash Purity Operating Environment, version 5.1, is available as a non-disruptive upgrade for all FlashArray//M and FlashArray//X customers and features up to 20 better data reduction, further reducing the amount of storage customers need to buy and manage.
The evolution to Web-scale application architectures has driven significant change in requirements for storage. Organisations today that embrace a cloud IT model often find themselves with a myriad of storage islands: SANs for classic applications, and DAS for modern analytics and Web-scale applications.
"New technologies enable us to reimagine the data centre. We finally have the ability to break down storage silos in the data centre to enable broad data sharing.
"New levels of storage efficiency enable organisations to realise the true potential value of their most important asset: data," said Bill Cerreta, GM of Platforms, Pure Storage.
"Diverse, fast compute, fast-converged networks and optimised protocols like NVMe have unlocked the potential to redesign the data centre for data itself. The FlashArray//X family represents a critical first building block for truly data-centric architecture."
A data-centric architecture enables diskless, stateless compute to flexibly connect to a fast, reliable and dense pool of shared accelerated storage via fast networking.
It decouples storage and compute, which enables them to scale and innovate independently, but maintains performance and efficiency. Shared accelerated storage makes the entire infrastructure dramatically faster, consolidates workloads and enables flexible, agile data sharing between modern applications: a design truly optimised for data.
Expanded FlashArray//X Family
* //X90: Densest, fastest array to-date. 3 PBs effective capacity in 6U, up to 2X faster than the market-defining FlashArray//M and lowest cost array per GB.
* //X70 and //X50: 100% NVMe arrays that scale to 1.3 PBs and 650 TBs of effective storage respectively.
* //X20 and //X10: Entry-level NVMe-ready arrays for smaller capacity and remote office needs. These come configured with SATA flash by default, but feature controllers fully-capable of supporting NVMe DirectFlash modules out-of-the-box.
Pure1 Management
* Purity 5.1, the latest release of our fully-parallel flagship storage operating environment, features significant enhancements to compression, delivering up to a 20% improvement in overall data reduction efficiency, especially for compression-centric application workloads. This non-disruptive software update will be available for all FlashArray//M and FlashArray//X customers.
* New Pure1 VM Analytics enables full-stack visibility into VMware vSphere environments. By integrating natively with vCenter, performance issues can be easily visually-correlated from VM to server to datastore to network to volume to array.
* The expanded Pure1 Workload Planner, powered by the Meta AI engine, helps customers optimise their environments by better understanding the impact of workload changes and also enables FlashArray customers to easily explore "what if" scenarios for hardware upgrades.
* The Pure1 Global Dashboard has been expanded, enabling fleet-wide visibility of all FlashArray and FlashBlade arrays globally, available on both the Pure1 SAAS portal as well as on the Pure1 Mobile app. Global visibility into array health, data reduction, alerts, and support issues is now available right in your pocket.
"Today's ever-increasing demands on infrastructure require a new storage architecture that enables traditional database applications and modern web-scale applications to share the same infrastructure," said Scott Sinclair, Senior Analyst, Storage Systems and Software for ESG.
"Enabled by fast networks, NVMe and NVMe-oF, modern, enterprise-grade solutions like the improved FlashArray//X allow organisations to merge SAN and DAS architectures and scale performance benefits across every workload."
FlashArray//X is orderable today for both new arrays and upgrades and will be shipping in early June. Purity 5.1 is available today. Pure1 VM Analytics, Workload Planner, and Global Dashboard updates will be made available soon.