Mobile solutions for hazardous areas
BARTEC's enterprise mobility and automation range for explosion-hazard areas make their mark with excellent performance and thorough consistency, from non-hazardous to hazardous areas.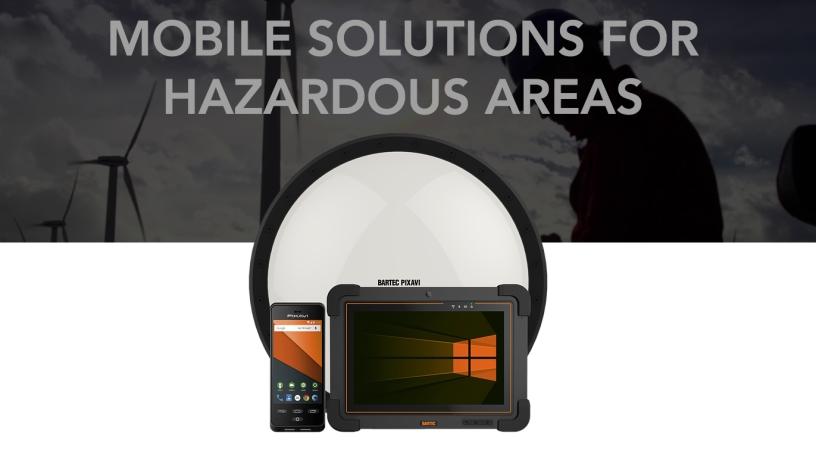 In the foreseeable future, many experienced specialists in key industries will retire. At the same time, there is a lack of qualified junior staff who can fill the gaps. The result: fewer employees who then have to cope with the same or an even greater workload. Effortless and careful electronic collection and documentation of data is therefore of the utmost relevance.
"Bring the problem to the expert instead of flying in an expert to the problem. That way, an expert can handle seven problems a day instead of one problem in seven days," says Roan Safety Products CCO Frikkie Koegelenberg.
Reliable communications between virtual and physical devices and rapid recording, transmission and processing of data are essential. Recording and forwarding of large data volumes, central data analysis, industry individualisation and the integration of the devices into existing, often very complex business processes of customers and partners are additional factors that we always keep in mind when developing automation and enterprise mobility devices.
The advantages of using mobile control devices are obvious across industries. For security reasons, such as personal protection functions, for example, a call to the emergency and rescue services can be automatically sent in a crisis situation, especially important in areas with high and dangerous emissions.
And these fundamental advantages also speak in favour of mobile devices:
* Time-savings during data acquisition and through digitised processes as well as significant reduction in the error rate, since employees no longer have to intervene mechanically and thus physically during measurement and control;
* Rapid decision-making through direct communication possibilities;
* Increased efficiency of staff assignments through greater flexibility on-site, and an overall improvement in cooperation in globally operating and organised settings without location-related functional restrictions;
* Increased safety thanks to availability of the correct information and an information overview that enables the correct decisions.
We offer system solutions for use in Zones 0, 1 and 2/Class 1, Division 1 and 2, whereby the worldwide use of the devices is guaranteed by comprehensive certifications. In addition, customer-specific developments and individualisation are, of course, possible at the customer's request.
Daily use in demanding environments and in extreme weather conditions places high demands on the performance and operator comfort of the devices used there, especially in hazardous areas. They must withstand high and extreme physical stress such as falls, impacts, dust and the effects of liquids.
In addition to camera systems, HMI solutions and hand scanners, the portfolio includes the entire range of mobile end-devices for hazardous areas, such as mobile computers, tablet PCs and smartphones.
International certifications make BARTEC devices and system services universally applicable. BARTEC cooperates with the most renowned system integrators worldwide and uses proven hardware and software solutions for the development of standard or customer-specific solutions.
To find out more about our range of automation and enterprise mobility products, visit www.roansafety.co.za/automobility.