Blind people get Apple Training Centre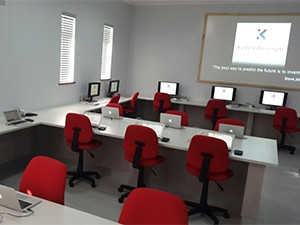 Kaleidoscope, previously known as the Institute for the Blind, yesterday opened a technology centre for the blind in Worcester in the Cape.
The Apple Training Centre is aimed at empowering the blind and visually-impaired with employability skills for the open labour market.
Big four bank Absa partnered with the non-governmental organisation and made a R3 million initial investment in the facility.
Initial funding was also received from Blinden Stichting voor Zuid Afrika (Blind Foundation for SA) and the Rotterdamse Stichting Blindenbelangen (Rotterdam Foundation for the Needs of the Blind).
Kaleidoscope has been in operation for 135 years, with a mission of empowering persons who are blind, partially-sighted or deaf-blind, by means of education, training, development and care towards a fulfilled life and complete citizenship.
The organisation provides accommodation, care and support to hundreds of visually-impaired persons in the country. It notes there are about 1.2 million blind/partially-sighted people in SA.
Equipped with modern IT equipment and software, Kaleidoscope says it will be the first organisation in Africa that will be able to empower blind and partially-sighted persons by training them in the most recent accessible Apple touch-screen and touch-type technologies which will result in more successful job placements of blind persons.
The centre will be equipped with iPhones, iPads, MacBook Airs, Mac Minis as well as the latest Apple technology used to do visual/keynote presentations.
All the training modules will begin with the basics of Voiceover - the Apple accessibility tool for the blind. Students will also be trained on both iOS and the latest Apple Mac operating system.
Boosting employability
Freddie Botha, executive head of Kaleidoscope, says considering 97% of persons who are visually impaired are unemployed, there is an enormous need among blind and partially-sighted people in SA to be trained in affordable accessible modern technology to enhance their employability.
"It is very important to empower our blind and partially-sighted persons to enable them to enter the open labour market on the same level as sighted applicants and employees. This centre will be an extension of our rehabilitation, skills training and career development department."
According to Botha, no other organisation in Africa provides the all-inclusive, comprehensive, specialised training needed by visually-impaired persons.
Being visually-impaired is in itself is a major challenge; however, according to Hein Wagner, Kaleidoscope's brand ambassador, motivational speaker and global adventurer, with the appropriate training, support and guidance, quite possible to overcome.
He says the additional challenge in the South African context is the huge cost of importing adaptive technology to make computers accessible for the blind.
"Up until a few months ago, it would cost you more than R10 000 to convert a standard PC into an accessible text to speech computer for the blind," he explains. "An average Braille display would put you back just short of R80 000 and with 97% of the blind in SA unemployed, it is time to find an alternative way to equip the visually impaired with affordable tools and training that will help them to enter the job market and become economically active."
Training target
Wagner says the training will focus on using the technology for both personal and business use, with the aim to train at least 400 students in the first year of operation.
"It is our duty to train the visually impaired on the most recent accessible touch-screen, laptop and desktop computers, to make them more employable once they leave our facility," he adds.
Wagner explains the centre has been designed to be blind-friendly with a logical layout and underfoot tactile markings for the blind to navigate the open-plan centre with ease and independence.
"Our trainer, Philip Crous, is also blind as we believe a trainer who is blind himself will use the most ideal method to transfer his knowledge and skills to the students in such a high-tech facility. On the personal computing side, we will focus on social media - Facebook, Twitter, WhatsApp, and a number of accessible apps for the visually impaired. On the business side, we will focus on e-mail, Safari, Web-browsing, Pages, to mention a few."
Students will also receive training on the latest enterprise resource planning and customer relationship management applications they will most likely face in the corporate environment once employed.
Wagner says Kaleidoscope will also engage with the corporate sector to ensure the placement of persons with visual impairments and support the employee as well as the employer to ensure effective work and training placement.