SA blessed with free press, says Muthambi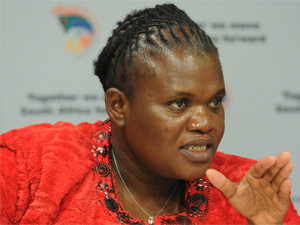 Although SA has had a fair share of criticism regarding media freedom, the country's communications minister, Faith Muthambi, thinks otherwise.
Yesterday, in a speech to commemorate World Press Freedom Day, Muthambi said "media freedom in South Africa is not declining".
The UN General Assembly declared 3 May to be World Press Freedom Day to raise awareness of the importance of freedom of the press and remind governments of their duty to respect and uphold the right to freedom of expression as enshrined under the Universal Declaration of Human Rights.
SA has been at the receiving end of condemnation regarding lack of press freedom. A recent report by the UN Human Rights Committee raised concerns about unlawful surveillance practices and a lack of transparency of government's surveillance policy.
The report voices concerns over reports of unlawful surveillances practices, including mass interception of communications, carried out by the National Communications Centre.
Safety guarantee
However, Muthambi says SA is still blessed with a free press, where the safety of journalists is guaranteed.
"As we mark International Press Freedom Day, we want to proudly inform the world that in our country, we are enjoying a complete free press, where journalists report without fear or favour. There is no journalist who is in jail for doing his or her work and, as government, we want to reiterate that we will continue to defend and promote media freedom."
Meanwhile, advocacy group Right2Know (R2K) does not share Muthambi's sentiment. Besides several cases of harassment that journalists have faced at the hands of the state, the group also cites surveillance as a growing threat to journalists.
The Snowden leaks were a warning of just how widespread mass surveillance abuses are among so-called established democracies, says R2K in a statement.
"In SA, journalists should be concerned about the same. Our intelligence services are notoriously opaque and are not immune to political interference. Problems in the law, in particular RICA, as well as weak and inefficient oversight mechanisms - we've been without an inspector general of intelligence for over a year now - make it easy for those within state security structures to spy on journalists and media workers for political ends."
According to R2K, on 6 May, the Specialised Commercial Crime Court will hear the first case of illegal surveillance against journalists in post-democratic SA, in which members of the police's Crime Intelligence Division are accused of tapping the phones of two Sunday Times journalists while they were reporting on scandals in the security structures.
It adds that in the past year, it has emerged that members of the intelligence structures bugged the phone of a former Mail & Guardian journalist while he was reporting on president Jacob Zuma's corruption charges.
The surveillance of journalists is a clear threat to media freedom, and the safety of their sources, and this points to the need for urgent reforms to RICA to prevent such abuses from taking place, the advocacy group says.
Minister's power
R2K also alleges the recently introduced Broadcasting Amendment Bill threatens to undermine the independence of national broadcaster SABC, giving the minister greater power over the board.
Nonetheless, Muthambi says the proposed amendments to the Broadcasting Act tabled by government are in line with the vision of ensuring universal access to broadcasting services in the country.
The advocacy group also points out the migration to digital TV has the potential to transform SA's media because many more TV channels could add to diversity of content and ownership.
However, it charges that the Independent Communications Authority of SA (ICASA) wants to give two-thirds of the channels to the private sector. The SABC has been given a quarter of the channels, it notes.
"The SABC does not have the resources to produce all these extra public interest channels and is likely to run them as profitable partnerships with the private sector. ICASA's proposed privatisation of the airwaves will see only 5% of stations being community non-profit," says R2K.
"Commercial stations will compete for existing advertising funds. There will be less advertising to go around so we can expect to see a lot of re-runs, old shows, and low budget American productions," it adds.
Concluding, the advocacy group notes it's not all bad news, as SA ranked 39 out of 180 countries in the World Press Freedom Index, above the US and one place behind the UK.