Live-broadcast drone footage directly to Periscope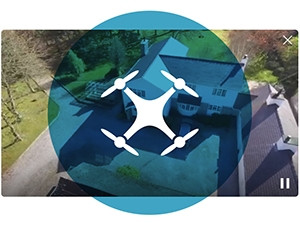 Periscope has added drone support to give users the option to live-broadcast from different perspectives.
To make use of the new feature, users need a supported drone from manufacturer, DJI, and an iPhone. The iPhone will have to be connected to the drone's remote.
Once this is done, Periscope says in a blog post, it will automatically pull in the video feed from the drone and let users switch between it, the iPhone camera and even a third source like a GoPro.
"During your broadcast, you can narrate from a bird's eye-view using your phone," says the company.
Periscope has also added a 'sketch' feature that allows users to live-draw on the feed to highlight different sights for the viewer.
The feature will be rolled out over the new few weeks. There was no mention of it coming to Android.
In January, the company teamed up with action camera manufacturer GoPro to broadcast the live footage directly to Periscope.
Only four months after launch last year, the Twitter-owned company had over 10 million accounts on the platform.
Other new features
Users are also able to now search for broadcasts by title or topic. When tapping on the search button in the Global List, a list of suggested topics to search for, including #Travel, #Music, #Food, will appear.
To broadcast about a topic, users should tap the Broadcast button in the topic's search results to add the relevant hashtag, or add the hashtag to their title directly.
At the beginning of this month, Periscope started testing in public beta a way for users to save their broadcasts for longer than 24 hours. To do this, #save needs to be added to broadcasts and it will then be kept in the user's Periscope and Twitter feeds with likes and comments.
Users still have the option to delete any of the traditionally ephemeral broadcasts at a later stage.
This new feature will be rolled out to all accounts within the next few weeks.