Every organisation needs a 2016 technology vision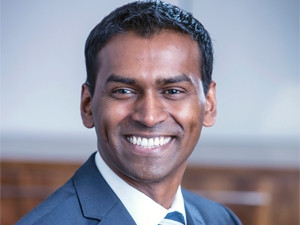 Digital disruption is here and organisations should think about what this means in terms of implication and implementation.
This was according to Lee Naik, MD of Accenture Digital, as he addressed delegates at the Accenture Technology Vision 2016 conferencein Hyde Park, Johannesburg yesterday.
Naik pointed out, as technology advancements accelerate at an unprecedented rate - dramatically disrupting the workforce, companies that equip employees, partners and consumers with new skills can fully capitalise on new innovations.
He added every organisation needs a digital implementation and execution strategy so that they are not only talking digital disruptions, but they also plan how to adequately handle them.
He discussed the five emerging technology trends shaping the People First landscape, and how these manifest themselves in the South African digital landscape.
Intelligent Automation
Intelligent Automation, he explained talks to how digital technology can be an essential co-worker to the workforce in this digital age.
The first thing Intelligent Automation talks about, he explained, is how we reimagine key parts of a process to use industrialised technology to deliver some of the back office processes.
"It's important for companies to consider how certain things which have been done in a traditional way for a number of years can be questioned fundamentally.
"We can start to ask how robotics software can be used to drive and deliver these services in a quicker and more agile way which is also more responsive," he pointed out.
The second factor around Intelligent Automation, he explained, is the implication to the workforce who are the knowledge workers that drive and deliver services in organisations.
In a highly digital world, we can intertwine innovation and technology and put them in the centre of how people execute their job function in the organisation.
"We are now seeing robotics software in different sectors which is able to reconfigure lengthy and mundane processes in only a few minutes," he said.
Liquid workforce
Liquid workforce, explained Naik, talks about how work gets done in a digital world, it's clear that organisations should start to focus on their customer value proposition in the market place.
This workforce could be empowered both regionally, nationally and globally to deliver part of what the organisation does.
An example which he used was the micro-jobbing service M4JAM (Money for Jam), for unemployed people.
Through this service, he explained, organisations have empowered people to do smaller jobs that get delivered by leveraging a liquid workforce which doesn't necessarily belong to the organisation, yet they perform tasks in a more agile, more responsive manner.
Platform economy
According to Accenture Digital, the next wave of disruptive innovation will arise from the technology enabled platform-driven ecosystems now taking shape across industries.
Having strategically harnessed technology to produce digital business, leaders are now creating the adaptable, scalable and interconnected platform economy that underpins success in an ecosystem-based digital economy.
Naik said platform economy is more than just Software as a Service but it's about business being innovative enough to partner with and use the digital platform of other businesses.
"Telecos have 50-100 million customers, what about building your solution on their platform? 97% of business leadership believe in having digital partners working in services and outcomes vs products and people," he added.
Predictable disruption
Accenture Digital says it's not just business models that will be turned on their heads due to digital disruptions. However, as these ecosystems produce powerful, predictable disruption, whole industries and economic segments will be utterly redefined and reinvented.
"CEOs of the most innovative and successful companies are not sitting on their laurels, but their biggest concern is where will this disruption come from and what should be done about it?
"Disruption is here, it's happening but what can we do to reimagine our businesses?" asked Naik.
He advised organisation leaders to start reimagining how they run their organisations and implement the right processes as this requires digital culture and commitment.
Digital trust
In human beings, trust is the foundation of all relationships. Digital trust isn't about security, in a world where data is everywhere; rather, it's about whether or not one is treating data with respect, said Naik.
"Pervasive new technologies raise potent new digital risk issues. Without trust, businesses cannot share and use the data that underpins their operations.
This is why the most advanced security systems today go well beyond establishing perimeter security and incorporate a powerful commitment to the highest ethical standards for data," he explained.
He added it's important for organisations to know how they acquired certain information, not just for the Protection of Personal Information bill, but for ethics of data. These ethics are a key factor in digital trust.
"Data and digital trust is important, in a digital world our own insincerity concerning data will be our own undoing," he concluded.