Tshwane residents face losing free WiFi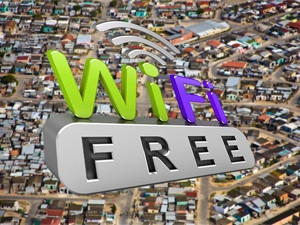 Residents in certain areas in the City of Tshwane will potentially be iced out from accessing free WiFi if negotiations with the service provider fall through. This is despite executive mayor Solly Msimanga expressing his commitment to the Internet project last week.
Yesterday, reports surfaced that the city's free WiFi service provider Project Isizwe "claims not to have been paid, warning of disconnections across the city".
According to a report that Pretoria News says it has seen, Project Isizwe warns that certain areas may be cut off over the lack of funds, adding it was already forced to run services in some areas at its own cost.
According to the newspaper, these areas potentially face being cut off on 1 June. They include: Church Square, Tshwane North College, University of Pretoria, Mamelodi community centre and Soshanguve Tshwane University of Technology campuses.
"Project Isizwe has the cash to maintain the network at current levels until 31 May. From 1 June, free Internet zones that are out of contract will need to be switched off and the full network will operate on contractual obligations," it quoted the report.
In an e-mail response to ITWeb, Project Isizwe's Peter Adolphs says: "Unfortunately, due to the ongoing negotiations currently under way with CoT [City of Tshwane], I am unable to make any comment this morning."
Connected city
In partnership with non-profit organisation, Project Isizwe, the WiFi network was introduced in 2013 to create free Internet hotspots in Tshwane.
Since its inception, the Internet project has facilitated access for three million residents. It has been hailed as the most innovative city or government programme and the biggest deployment of municipal free WiFi on the African continent.
With a network speed of 15Mbps, the city offers Internet users a daily cap of 250MB.
At last count, the country's capital reported it had around 800 free hotspots where citizens could access the service, and is the city with the most access to WiFi zones for its residents.
Speaking about the Internet project during last week's budget speech, Msimanga said the city's WiFi project has contributed to the creation of an inclusive Tshwane.
According to him, the WiFi project has taken on a momentum of its own, with active and engaged citizens making a difference in their communities with the power of technology.
He explained: "I have been vocal in my support of the free WiFi project. The TshWiFi network is stable and operational, and our job now is to make it better and sustainable. The service has not been suspended for any reason and network deployment continues to grow.
"Not only does free WiFi allow users who previously only had limited access to get online, it also gave small businesses the chance to use information technology to thrive."