FNB unwraps own branded smartphones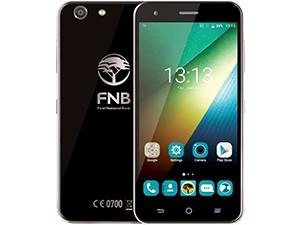 Frist National Bank (FNB) today announced it is launching its own branded smartphones, in a move it says "fully integrates banking and customer mobility".
Speaking at the smartphones' launch in Cape Town today, Jan Kleynhans, CEO of the FNB consumer segment, said the move is part of the bank's plans to integrate banking and telecoms into one platform.
"For FNB, mobile banking is more than just having the best banking app. For us, true mobile banking is enabling customers to bank anywhere, anytime using smartphone technology at very affordable prices."
The bank has developed a choice of two smartphones, the ConeXis A1 and X1, which are manufactured in China by ZTE. The smartphones will be available to FNB customers at 380 FNB branches across South Africa from 1 September.
The phones are available to customers who have a banking transactional account with FNB and work with an FNB Connect SIM. There is no credit check, but a refundable deposit is required, which is parked in a Linked Savings Account and returned with interest to the customer after 24 months.
The A1 is pitched at FNB's Easy bank account-holders, who will pay R59 per month for 15 minutes airtime and 50MB of data. Gold and Premium (Premier, Private Clients and Private Wealth) customers can get the higher specification X1 at R150 per month with 25 minutes and 100MB of data included.
"In line with the global trend towards convergence in digital migration, we believe it's critical to empower our customers with smartphones that not only improve their banking and mobile experience, but are also affordable and of a high quality," says Kartik Mistry, head of smart devices at FNB.
The smartphone comes on the back of FNB's entry into the telecoms market with mobile virtual network operator, FNB Connect, in June last year. The bank says FNB Connect now has 400 000 active customers.
"We introduced the Connect offering to give customers control over cellular spend, by converging cellular and bank accounts on a single client profile and platform," says Kleynhans.
FNB also announced the introduction of the FNB Connect Unlimited Callsoffer, which allows subscribers to make unlimited local calls to any network for only R399 per month (fair usage of 2 000 minutes per month). The Unlimited Calls product is a month-to-month offer available on both pre- and postpaid, and can be taken up together with the FNB ConeXis smartphone deal or any other branded mobile phone. It comes with 100MB and 50 free SMSes monthly.
The Unlimited offer is available to customers from 24 August, while the FNB ConeXis smartphones will be available at selected FNB branches from 1 September.
FNB has also integrated the ConeXis smartphone offering with its rewards and banking programme, which it says incentivises the correct products, behaviour and mobile phone usage by rewarding customers with attractive cellular discounts.
FNB is offering up to a 100% rebate on the X1 monthly instalments depending on the customer's eBucks rewards level. Gold customers on eBucks Rewards level of three, four, five will be rebated R60, R90, R150 (100%) on the monthly repayment respectively. Premium customers will be rewarded from level one.
"The FNB offering is also structured to encourage a savings culture through the use of convenient and cost-effective savings platforms," adds Kleynhans.
Each phone is preloaded with the FNB app, and data usage for online, cellphone banking or via the FNB app is zero-rated. Calls to the FNB's Banking Call Centre are also zero-rated.
The rebate
Gold customers will get a rebate off the monthly instalment of up to R150 (dependent on their eBucks Rewards level).
Level three: R60
Level four: R90
Level five: R150 (100% rebated)
Premium (FNB Premier, FNB Private Clients and FNB Wealth) customers will also get a rebate, based on their eBucks Rewards level. However, this will be rewarded from level one.
Level one: R15
Level two: R30
Level three: R60
Level four: R90
Level five: R150 (100% rebated)