Bytes announces Workforce Central 7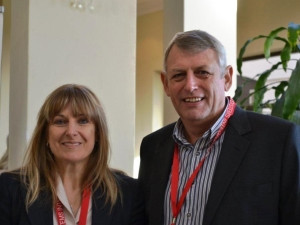 Bytes System Integration has announced the local availability of Kronos Workforce Central 7.0, the latest iteration of the market's leading workforce management solution. Bytes Systems Integration is a Bytes Technology Group company that is wholly owned by JSE-listed Altron.
Workforce Central 7.0 was announced at KronosLive SA 2013, a regional customer conference held in Johannesburg, Durban and Cape Town, led by Christine Paquay, Kronos global product manager. Kronos addresses the corporate issues of workforce innovation including time and attendance, scheduling, absence management, HR and payroll, hiring and labour analytics.
"Studies have shown that engaged staff are more productive," said Paquay. "So we need to create an engaged and enabled workforce."
Among the key features in Workforce Central 7 are a new enterprise message bus, and an in-memory data grid to resolve the issue of data bottlenecks and enable analytics. The new solution has an intense focus on mobility and the cloud, with over 8 000 customers in more than 100 countries deploying cloud-based workforce management, among them Amazon, McDonalds, Visa, Air France, Marriott and BP. Thirty million people around the world use Kronos solutions daily, and the company spends $100 million annually on product development.
David Hunter, divisional director for Kronos at sole SA distributor Bytes Systems Integration, said: "It is extremely gratifying to see the level of interest shown by our customers on what Kronos has to offer. The large turnout at the road shows is indicative that Kronos is on the right track."
Kronos' new Workforce Tablet enables managers to be constantly connected to their workforce management tasks, wherever they are, and to manage in the moment.
"What is the value of your workforce?" Paquay asked. "It can be viewed as an expense, a resource, a flexible asset or a competitive advantage - a network of individuals who work together to achieve a desired result."
Kronos has focused on resolving the traditional shortcomings of enterprise software. Among these, Paquay said, are the fact that software is typically designed with users as an after-thought, requiring a high degree of manual intervention. It forces users to be tethered to their desks, with little or no mobile device utilisation, even when users prefer this mode. It offers little insight, with no alerts, drill-down or context. It tends to be backward looking, rather than real time in its focus, and fragmented, when users need it to be integrated, reliable and scalable. Much enterprise software is centred on the vendor's requirements, and as such, it is inwardly focused.
"By taking workforce management mobile and to the cloud, we are freeing managers to focus on their work, wherever they are," said Paquay.
Workforce management has grown through a process of capability maturity, where today it can confer competitive advantage: it has grown through an expected curve: from manual to automation, from planning to execution, and now innovation.
"You cannot do anything without people. Kronos can change the way a company views its workforce," said Paquay. "This is in line with the way Kronos has matured, and the company's ability to maximise large data sets. Data is messy and there is a cost to cleaning it up. Obtaining useful data requires a collection of skills."
This analytic ability is available on the iPad and smartphones, delivered through deep investment by Kronos. "We will give our customers the ability to have guided decisions, relative to the old way of doing HR.
"Customers will enjoy system alerts, HR recommendations, ease-of-use wizards, and be able to proactively identify potential problems."
Kronos will ship its SMS communication platform in June, allowing two-way communication, from manager to employee, and vice versa.