Huawei enters detachable tablet market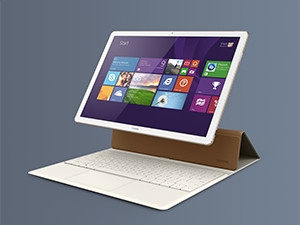 Chinese manufacturer Huawei last night entered the detachable tablet market with the announcement of its new MateBook at Mobile World Congress (MWC) in Barcelona.
The MateBook is a two-in-one device, "combining the mobility of a smartphone with the power and productivity of a laptop," said the company. It features a sixth-generation Intel Core m-series processor and Windows 10 productivity tools, such as Cortana, Microsoft's digital personal assistant.
The keyboard features a 1.5mm keystroke and a chiclet keycap design, which allows for larger key surfaces to minimise typing errors. The detachable keyboard also has a built-in touchpad which uses multi-touch technology for precise finger movements.
Huawei says the battery provides enough power for nine hours of work, nine consecutive hours of Internet use, and 29 hours of music playback. The company says the device will reach full charge after two-and-a-half hours and 60% in an hour.
Last week, research by the International Data Corporation (IDC) showed one in five tablet devices sold in the fourth quarter of 2015 were detachable.
A total of 2.6 million tablets with a detachable keyboard were shipped ? up from just over 800 000 units a year ago, now accounting for almost 20% of the overall tablet market, said the research firm.
"As the detachable tablets available on the market become more powerful and better suited to business requirements, this form factor has been successfully adopted by professionals and executives, as it perfectly addresses their mobility needs and is increasingly seen as a notebook replacement," said Daniel Goncalves, research analyst, IDC EMEA personal computing.
The MateBook will be available in Asia, Europe and North America in the coming months. Prices range from $699 (R10 766) to $1 599 (R24 627). The South African release date has not been confirmed.
Specifications:
Size: 278.8x194.1x6.9mm
Weight: 640g
Colours: Grey or gold
Display: 12-inch 2 160 x 1 440 IPS TFT LC
CPU: Sixth-generation Intel Core m processor, dual core up to 3.1GHz
OS: Windows 10 Home / Windows 10 Pro
RAM: 4GB / 8GB LPDDR3
Storage SSD: 128GB (HZ-W09) / 256GB (HZ-W19) / 512GB SSD (HZ-W29)
Network: WiFi: 2.4GHz / 5GHz
Connectivity: WiFi: 802.11 a/b/g/n/ac MIMO
Bluetooth: 4.1
Sensors: Ambient light sensor, fingerprint, accelerometer, gyroscope
Camera: 5MP, fixed focus
MIC: Dual digital MIC
Speaker: Dual speakers
Ports: Headset jack, USB 3.0 Type-C
Battery: 33.7Wh (4430mAh@7.6V)