SAA, Mango take green flights to the skies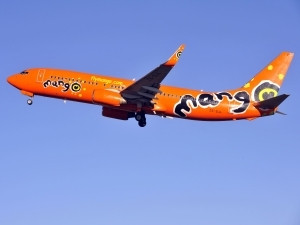 Boeing, South African Airways (SAA) and low-cost carrier Mango have unveiled Africa's first passenger flights with sustainable aviation biofuel.
The flights coincided with Boeing's 100th anniversary and centennial celebrations worldwide.
The SAA and Mango flights carried 300 passengers from Johannesburg to Cape Town on Boeing 737-800s using a blend of 30% aviation biofuel produced from Sunchem's nicotine-free tobacco plant Solaris, refined by AltAir Fuels and supplied by SkyNRG.
"SAA is committed to a sustainable future and this flight highlights the bold steps we are taking to protect and preserve our environment while creating opportunities for the economic development of our people," says Musa Zwane, acting CEO of SAA. "We are pleased to join the ranks of global airlines who have made a commitment to a better and cleaner way of flying."
"It is fitting that on our 100-year anniversary we are flying on fuels ?that not only power the flight, but ensure a sustainable future for our industry," says Miguel Santos, managing director for Africa, Boeing International. "This project is a great example of environmental stewardship that delivers economic and health benefits to South Africa."
Maarten van Dijk, CEO SkyNRG, says: "We are proud to supply South African Airways together with our partner AltAir Fuels, the first and only refinery worldwide that produces sustainable biojet fuel on commercial scale. This flight represents an important next step for Project Solaris and we thank the Dutch government for their ongoing support that has been key in achieving today's success."
"It is a great honour to be part of this unique flight and South African Airways' commitment to a better and cleaner way of flying. We look forward to supplying many more sustainable biojet fuel flights together with our partner SkyNRG," says Bryan Sherbacow, president of AltAir Fuels.
In 2013, Boeing and SAA launched their sustainable aviation fuels collaboration and in 2014, Project Solaris became the first focus project that converted oil from the Solaris plant seed into biojet fuel. In 2015, farms in Limpopo, from which the biofuel for today's flights was sourced, achieved certification from the Roundtable on Sustainable Biomaterials (RSB), one of the strongest sustainability standards in the world.
The RSB certification provides a model for expansion of Project Solaris to larger scale production. The initiative also focuses on SA's goals for public health, rural development, and economic and employment opportunities for farmers by increasing production of Solaris and other feedstocks on under-utilised land.
The partners also launched a stakeholder and sustainability plan, called the Southern Africa Sustainable Fuel Initiative, to ensure a long-term domestic fuel supply for SAA and other regional fuel users.
The goal is to scale-up over the next several years to gain additional biofuel capacity. If successful, farmers will be able to tap into local and global demand for certified feedstock without adverse impact to food supplies, fresh water or land use.
Studies have shown that sustainably produced aviation biofuel emits 50% to 80% lower carbon emissions through its life cycle than fossil jet fuel. Airlines around the world have conducted more than 2 500 passenger flights using various forms of aviation biofuel since it was approved for commercial use in 2011.
Rolf Hogan, executive director RSB, adds: "RSB is honoured to be part of Project Solaris that has a positive impact in the Limpopo province in South Africa. This project can improve the lives of smallholder farmers in South Africa as well as inspire others around the world to show that it is possible to produce environmentally, ethically and socially sustainable biofuel. We hope this project serves as an example that can be duplicated around the world in various regions with diverse feedstocks."