Private is the new black
After taking his company private a little over a year ago, Riverbed's CEO is planning another Initial Public Offering (IPO).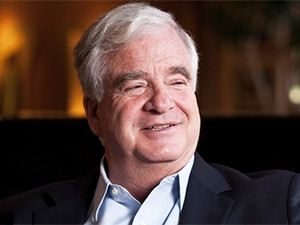 Jerry Kennelly, CEO of IT company Riverbed, says he feels a little 'blurry' after a 30-hour flight from San Francisco, where his company is based. But the trip has been well worth it, he says, as he's able to serve the whole of the African continent from Johannesburg.
The company, which deals in application acceleration and performance, had a turnover of $1-billion last year and employs over 2 000 people. Explaining his company's technology, Kennelly says that while everyone knows computers are part of the virtual world, it's important to remember they're also part of the physical world. This thinking can be applied to network packets, which are electrons that travel through copper, by satellite or fibre.
"So every cost in the physical world has two costs, a cost in time and a cost in dollars. My cost in time to fly here from San Francisco was 30 hours of my life, and my cost in dollars was $1 800. So if a packet with a network query came from San Francisco to Johannesburg, its cost in time would be about threequarters of a second. At the speed of light, it would take that long for one network packet to make it here, and my cost is what I would pay the network operator to buy the bandwidth to send that packet here."
He says Riverbed's technology uses software to reduce that three-quarters of a second to an 'almost instantaneous' transfer.
This is combined with powerful compression that reduces the amount of bandwidth used, reducing the cost to one-twentieth of what customers would have paid.
"You can't go faster than the speed of light, right?" asks Kennelly. "But you can use software to 'spoof' it and it gives you the practical working effect of actually having exceeded the speed of light in packet transfer."
The 'magic' is to be found in the software, which means that frequently used data is stored on either side of the network, so it doesn't need to be sent back and forth.
Says Kennelly: "The fastest trip is the trip that's never taken. And the cheapest trip is where you send the least amount of information."
Double dip
Riverbed has been a private company for a little over a year, after it was acquired by private equity firm Thomas Bravo for $3.6 billion last April.
"It's stressful being the CEO of a public company in the US," says Kennelly. "Wall Street is on you like hyenas every 90 days." He adds that his quality of life has improved and his stress levels have lessened now that the company is private.
In going private, investors appreciated the company's other assets, such as the strength of the product portfolio and the cash flow. Part of the decision to remove Riverbed from the public exchange was that Kennelly wanted to do some 'refocusing' on the company's core strengths. This involved some restructuring, and, as it turns out, 2015 - with $1-billion in turnover - was the best performing year in the company's 14-year history.
The fastest trip is the trip that's never taken.
He says it will operate as a private company for roughly another three years, and they'll then take the company public once more. In fact, the company is already planning its second IPO, which, typically, takes about 18 months to wrap up.
When Riverbed was taken private, all the employees were paid for their stock options, and then everyone received fresh stock. "So when we re-IPO, they'll all get a second wind," Kennelly says, something known as a 'round trip with a double dip'. "While leverage cuts both ways, at the end, the company has to perform."
He believes going private seems to be a trend at the moment - there have been about half a dozen leveraged buyouts in tech in the last 18 months, with more lining up.
Regarding Riverbed's strategy for the local market, the company recently acquired Germany-based Ocedo, which brings with it SD-Wan software-defined wide-areanetwork) expertise. Ocedo is seen as a principal provider in software-defined networking and SD-Wan solutions.
With the acquisition, Riverbed has now become a fully-fledged routing and networking company, and Kennelly is looking forward to going head-to-head with Cisco.
"We're going into a $17-billion market that Cisco basically owns right now. We respect Cisco, they're a great company.
We're never going to take them down. But if I can take five percent of that market from them...it'll annoy them, but it won't hurt them that bad."
Kennelly was Asia-Pacific director of HP for eight years before he started Riverbed in 2002, with Steve McCanne as the CTO. Unusually for a startup, the company went international 'almost immediately', and started doing business in South Africa within their first three years.
The original name of the company was NBT (Next Big Thing) Technology, which was renamed to Riverbed Technology in 2003. Tracing the origin of the name of its core technology - the Steelhead - which accelerates applications across WANs, Kennelly says McCanne had been a keen fly fisherman.
For a fisherman, the most prized catch is the steelhead trout, which is 'very big, very strong, and tastes very good. And the steelhead swims in the riverbed..."
Consolidation
Kennelly says technology is a cyclical market, and has always been cost-sensitive. The reason that Riverbed had been able to grow so quickly is that its technology cuts costs for companies, and half its sales are probably because of the cheap bandwidth they've created.
He says the highest return in IT can be achieved by datacentre consolidation. Companies dispersed across Africa will have multiple datacentres, necessitated because of the poor performance of networking over distance.
"If they have 500 branches in 20 datacentres, and you can service 500 branches out of three datacentres, the ROI is the highest return that exists in the entire IT world."
Kennelly believes there are some fundamental changes afoot in IT. When it comes to the cloud, customers want to purchase a product on a subscription pay-as-you-go basis, rather than on a perpetual licence. Riverbed is 'playing' with this model.
"It changes the look of your income statement," he says. "Wall Street has a hard time with that. But when you're private, you can do whatever you want."
This article was first published in the June 2016 edition of ITWeb Brainstorm magazine. To read more, go to the Brainstorm website.