Telkom, Cell C switch places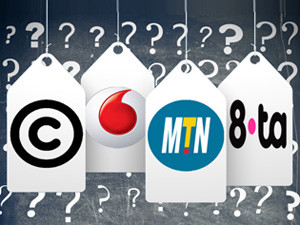 South Africa's mobile terrain is changing fast, with a host of new players entering the market, a new division between the main four, and a reversal of roles between the smaller two - Cell C and Telkom Mobile.
Given yesterday's aggressive prepaid data price cuts and the fact that Telkom Mobile has not followed its three mobile counterparts in upping contract pricing, analysts say Telkom Mobile has risen to snatch the title of "consumer champion" once claimed by third operator Cell C.
With 12% revenue market share and almost 15 years of experience under its belt, Cell C is now playing in the same league as the "big two". Telkom Mobile - which has managed to garner about 2.2% market share since its original mobile brand 8ta landed in October 2010 - is now the one willing to forego higher prices for market share win.
Cell C started stirring the market with aggressive price cuts when former Vodacom boss Alan Knott-Craig took the reins in 2012. He ignited a price war that culminated in 2013 and tapered off last year, until December - when Cell C made the first move to U-turn and hike prices in what it called "rationalisation of [its] products".
Cell C's consumer cause had already started disintegrating months prior, when the operator introduced what some said were "sneaky" measures that resulted in consumers paying more for data.
IDC telecoms analyst George Kalebaila says there is a patent reversal of roles at play now. "Cell C is no longer young and is now experiencing the same growing pains that MTN and Vodacom suffered from, having gained market share and, consequently, costs rising. "Now Telkom has to grow market share and it is telling that they have done this on the prepaid side, where the big opportunity lies."
Shifting scene
Antony Seeff, CEO of cellphone bill analysis company Tariffic, says there have been some fundamental shifts in SA's mobile landscape recently. For one, he says, the network operators have moved their focus away from price.
"Cell C has shifted from being seen as consumer champion with the cheapest rates, to just a cheap network with cool marketing. Vodacom has positioned itself as the leader in network coverage, even though its pricing is more expensive than competitors.
"[Meanwhile,] MTN has been very quiet of late - and is noticeably absent from the recent round of marketing campaigns that Vodacom and Cell C have embarked on (the 'slaap tiger' and the 'humping dog')."
At the same time, says Seeff, consumers have become more cynical and less tolerant of poor service and perceived injustices, such as price hikes.
Perception problem
In a turning of the tables, he notes that, where Cell C previously marketed itself as the consumer champion, Telkom has been quietly sitting on the sidelines while offering products and services that consumers have been asking for.
"Unfortunately, these products and services haven't been marketed with nearly the same budget as competing cellular networks, so consumers are largely unaware of them."
The other problem - which Telkom has said it is addressing in its holistic turnaround drive - is one of reputation.
Seeff says: "Telkom unfortunately suffers from a perception problem. Its network, offerings, pricing, and customer service are all incredibly competitive, but [the company] has been unable to capture a sizeable share of the postpaid market."
He attributes this to two factors: Telkom's cellular offering being tainted by consumers' previously poor experience on the fixed-line side of the business and, secondly, the fact that many consumers have been burned by moving to networks with poor signal. "In reality, both these factors are probably not relevant, but this is a difficult image to shake off."
BMI-TechKnowledge director Brian Neilson points out that consumers are fickle and loyalty to mobile brands has proven to be fragile. "Just as prepaid customers have always responded to 'flavour of the month' offerings from the other three operators, so they are capable of defecting to Telkom Mobile now - at least those who are not seriously disenchanted with the overall Telkom brand."
Data deluge
Earlier this year, there was a call for an end to inflated data prices. Market watchers said operators would have to grasp how important data was to users and act on it, if they were to avoid being caught "by speed if not surprise" by the data tsunami the country was seeing.
Africa Analysis analyst Ofentse Mopedi notes, when comparing Telkom's new data plans to offerings available from other mobile operators, Telkom is the cheapest. "The competition in this arena is not only starting, but has rather continued for some time, with MTN having been the most aggressive in the past 18 months through its 55% and 100% Give Back data promotion.
"What is important to note, however, with Telkom's new offering is that the operator did not necessarily introduce new data plans per se, but rather has adopted its former own-network data plans as a standard price for all.
"Also to be highlighted, Telkom's own-network data plans have always been the lowest in the market. This development is therefore likely to instigate a reaction from MTN, which is still trying to stabilise its prepaid churn rate."
He points out that both MTN and Telkom are undertaking turnaround strategies and the prepaid market remains very key to both companies, with 80% to 90% of mobile operator revenues derived from this market. "Going forward, competition can only get more heated, with further price reduction to be expected."