Nedbank opens SA's first solar branch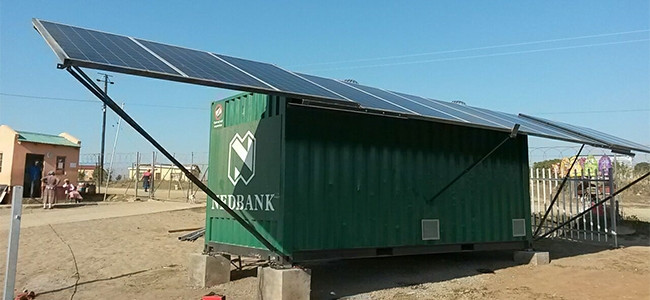 Nedbank has unveiled what it claims is South Africa's first solar branch, in Mncwasa, 60km from Mthatha in the Eastern Cape.
The bank says in what is a first-to-market in the financial sector, the Nedbank solar-powered branch is aimed at providing convenient banking solutions to a community without banking facilities through SolarTurtle, a mobile service provider owned by members of the Mncwasa community.
Opening the Mncwasa branch was also the result of a partnership with the Mbhashe Local Municipality, represented by executive mayor, councillor Samkelo Janda, who spoke at the launch.
More than 69% of the Mncwasa community is economically inactive and depends on child support grants, with employment concentrated among teachers and small-scale entrepreneurs.
The solar branch is situated in a rural area and will enable community members to access financial services such as cashless banking, and make use of digital payment solutions through Masterpass.
Masterpass is a digital payment app from Nedbank that is convenient and simple to use. According to Nedbank, this digital wallet enables faster and safer transactions as it saves client payment information in a secure digital storage facility, so users can make online purchases at the press of a button. The app can be downloaded from the Apple, Android, Blackberry and Windows app stores.
"This solar Nedbank branch will offer cutting-edge e-banking technology to an area where banks normally don't go," says James van der Walt, CEO of SolarTurtle.
"This will allow rural clients to open accounts, receive money from their relatives and even take personal loans so they can buy solar power solutions for their own homes. All this is done cash-free through a phone, making it safe and secure."
Currently, there is no local banking facility in the community, and Nedbank says it is committed to uplifting communities by offering facilities for local entrepreneurs to transact safely and conveniently.
"As money experts who do good, Nedbank is committed to making banking accessible to all the communities in which we operate. We understand the role that banking services plays in stimulating economic activity and thereby developing communities. It is for this reason that we continue to develop innovative products and services, such as the solar-powered branch, which is designed to overcome infrastructure constraints while enabling individuals, families and businesses to realise their goals and full potential," says Nedbank's Eastern Cape provincial GM Lonwabo Daniels.
"This is a wonderful opportunity for Nedbank and we envisage it being a pilot for a potential penetration strategy into Africa," concludes Daniels.