Celebrating IT industry's top achievers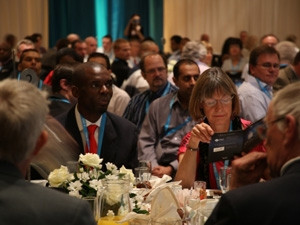 The winners of the IITPSA (formerly CSSA) Annual President's Awards will be named in Johannesburg at the beginning of November.
The annual awards recognise the people who are doing outstanding work by growing successful IT businesses and creating jobs and developing skills, while fostering entrepreneurship and innovation, transforming businesses through innovation, and aiding local communities.
The event is attended by leaders from corporate business and government, as well as influential people from the South African ICT community. It allows businesses and individuals to demonstrate their support for the finalists, the ICT industry and the ICT profession in SA.
The likes of First National Bank, Bridge Credit, Sasol, the University of the Witwatersrand, Nedbank, Xlink, Sizwe IT Group, Hollard Insurance, Absa Technology, Lineran and Eskom are all set to attend.
A portion of the proceeds from table sales goes to The Papillon Foundation - a Johannesburg-based NGO that focuses on empowerment of the poor through technology.
About the awards
The awards are presented by The Institute of Information Technology Professionals South Africa (IITPSA), formerly Computer Society South Africa (CSSA), in association with ITWeb, the Gordon Institute of Business Science and Gartner Africa.
This year marks the 35th IT Personality of the Year Award.
The five 2013 finalists are:
* Barry Dwolatzky, director of the Joburg Centre for Software Engineering (JCSE)
* Mteto Nyati, MD of Microsoft SA
* Pieter de Villiers, founder and CEO of Clickatell
* Stafford Masie, founder of ThumzUp
* Wesley Lynch, CEO and founder of Realmdigital
The Visionary CIO Award, now in its sixth year, recognises an executive who has demonstrated visionary leadership in using technology to support and grow business.
The five 2013 finalists are:
* Alec Joannou, CIO of Sasol
* Antony Hlungwane, head of Group IT, Hollard
* Fred Swanepoel, CIO of Nedbank
* Quinton Caryer, CIO of FNB Wealth
* Sal Laher, CIO and divisional executive of Eskom SOC
IITPSA President's Awards Breakfast
Show your support and join us as we celebrate the ICT industry's top achievers. The winners of the IITPSA President's Awards 2013 will be announced at an exclusive business breakfast, on Thursday, 7 November, at Montecasino, Fourways. Click here to book your table!