Mobile gaming revenues balloon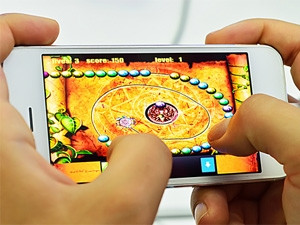 By 2016, total revenues from mobile games will reach $28.9 billion - a growth of more than 38% over the 2014 figure of $20.9 billion.
That's according to a new report from Juniper Research, which highlights that in an effort to maximise their apps' potential, developers are focusing on increasing user lifetime value.
The report - Mobile & Handheld Games: Discover, Monetise, Advertise 2014-2019 - found that with the domination of casual gamers playing free-to-play games, the developers' approach has shifted from bulk acquisition of unique players.
Under the new strategy, which brings mobile analytics to the fore, developers are increasing lifetime value through analysing, (re)engaging and monetising users, allowing for higher overall returns on investment, the analyst firm says.
The games industry has changed dramatically over the past decade, says Juniper Research. It reveals that the evolution of the mobile games industry, a sub-sector of the entertainment software and media industry, dates back to the early 1990s when calculator manufacturers started to embed the popular 'Snake' game into their devices.
In the second half of the decade, Juniper Research adds, Nokia decided to pre-load the game into its new models. Recognising the market opportunity, several companies started working on technology that would enable mobile phones to offer more sophisticated games to users. The early years met with limited success but helped developers to further understand the possibilities in the emerging mobile games industry, Juniper notes.
Historically, computers and consoles were essentially the only devices to play games on, requiring a significant initial investment in hardware and software from gamers.
However, Eva Hunyadi, research analyst at Juniper Research, says these devices have been supplemented by an array of alternative games channels in recent years; first with the evolution of the handset beyond a simple communications mechanism and more recently, especially in developed markets, with the emergence of the mass tablet market.
Most devices present an additional use as a games device type, encouraging those who perhaps wouldn't normally play games to begin, Hunyadi explains.
This has led to a wider demographic of players, meaning there is no longer a 'typical' gamer, although several broad subcategories of games have emerged as the mobile games market has matured, she says.
The report reveals that revenues on feature phones will decrease significantly in all key regions over the next five years, dropping to $302.6 million by 2019. The most noticeable shrinkage will be seen in regions such as Latin America and Far East and China, with CAGRs of -23.6% and -27.5%.
At the same time, says Juniper Research, these regions will see some of the highest growth rates in smartphone-installed base of 14.5% and 13.5% respectively. The games market on feature phones will become non-existent in North America and Western Europe, with Latin America and the Rest of Asia and Pacific quickly following this trend, it adds.
The mobile research firm also points out that revenues on portable games devices will shrink globally at a CAGR of -21.7% by 2019. Diminishing by a CAGR of -20.0%, Far East and China will still account for 32.5% of the revenue generated by software sales.