Barry Dwolatzky awarded for distinguished service in ICT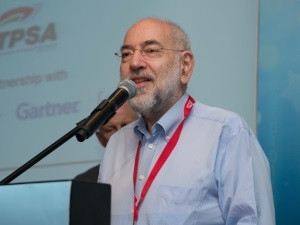 Barry Dwolatzky, respected software engineering professor and the man behind Joburg's technology hub initiative, has been honoured with the Distinguished Service in ICT Award.
This was announced at the 38th Institute of Information Technology Professionals South Africa (IITPSA) President's Awards held at Montecasino in Johannesburg this morning.
The award is presented by the IITPSA, in association with EngineerIT, to an individual 'who is seen as a role model and mentor, who has made an outstanding, career-length contribution to the SA ICT industry and who has shown a long-term commitment to the aims and objectives of the Institute'.
Dwolatzky is professor of software engineering in the Wits School of Electrical and Information Engineering and director of the Joburg Centre for Software Engineering (JCSE).
EngineerIT's Hans van de Groenendaal described Dwolatzky as 'a humble, brilliant man', who has dedicated his entire life to the world of academia and encouraging young minds to develop, grow and be innovative'.
"His driving passion is to promote the growth and development of the South African software industry," said the citation. "He is strongly committed to ICT Skills development at all levels, and many successful programmes are run through, or with the involvement of, his Software Engineering Centre."
Dwolatzky is "the mastermind of a new software outreach programme and digital innovation hub being developed in Braamfontein, Johannesburg, with the aim to nurture the production and consumption of local ICT products and services," said Van de Groenendaal.
"I feel very humbled to be receiving this [award]," said Dwolatzky. "I guess it's the best praise one can get, from your peers, because they are the ones who know the context to the stuff you do. They are the people who can appreciate this invisible industry we work in.
"One of the things that I try to teach my students is that the hardest thing to manage is a software project because you will be managing something invisible. This whole industry is invisible yet it is the underpinning factor in the current fourth industrial revolution," he said.
"In a very little way, I have played my part to bring forward the next generation of skills, innovators and entrepreneurs, who hopefully in a few years will also be receiving awards."
In 2013, Dwolatzky was was a joint winner of IITPSA's IT Personality of the Year award, with Mteto Nyati.