Orange to launch WiFi pilot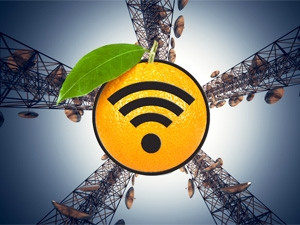 French mobile operator Orange is planning to launch a pilot WiFi project in SA this year, as the company continues to try and make its mark on the local market. It aims to become a mobile virtual network operator (MVNO) that can take on the country's mobile giants.
This comes a little over a year since Orange announced it had its sights set on South African consumers, and while the company may be reviewing its business in other African countries, it says SA remains a top target.
Now the operator plans to leverage South Africans' appetite for wireless connectivity through a project set to take off soon. Tom Wright, corporate press officer at Orange, says WiFi is the operator's next big challenge.
"Work is ongoing, with a view to starting a pilot project this year. Wright says the company will be able to provide more information within the next two weeks.
He says Orange is still intent on being in SA for the long haul. "We will continue to extend our existing offers throughout 2014 - both through the development of our online catalogue and the introduction of new travel products and services.
"We are also hoping to launch new services this year based on WiFi. We are here to stay."
Orange entry
Orange officially entered SA on the consumer front in January, with the launch of Orange Horizons - a subsidiary set up in a bid to seek out new opportunities in countries where the group was not already present as a mass-market telecoms provider.
SA was introduced to the brand via the group's first tentative steps of an online e-commerce store and a country Web site featuring locally relevant content.
Six months on, Orange announced a partnership with one of the country's largest service providers in the telecoms space: Nashua Mobile. This marked the operator's first physical phase of South African expansion, with a retail presence being set up in several of Nashua Mobile's retail stores countrywide, starting with Sandton, in Johannesburg; Brooklyn, in Pretoria; and Canal Walk, in Cape Town.
According to Wright, these moves have so far proven fruitful for Orange. "The South African consumer landscape is very interesting and has responded very well to the entry of Orange Horizons."
While the company declined to provide sales and customer numbers, saying this information was confidential, Wright says these have exceeded expectations.
"On travel products, we are happy with the results. [They] show that there is still room for improving the overall roaming experience. The online store is also working well, and finally, we have launched the first airtime transfer offer in rands, enabling users to recharge mobile minutes for customers of over 360 operators in over 100 different countries."
Regarding the company's plans to launch as an MVNO - an objective Orange Horizons MD S'ebastien Crozier has highlighted - Wright says while the prospect represents an interesting opportunity for Orange Horizons, the company will only look deeper into this once regulatory conditions have improved.
In August, Crozier said the company planned to offer Internet Protocol television, mobile money and Internet services for local customers as well. He said the array of services Orange was considering went beyond the run-of-the-mill mobile menu South Africans have with SA's incumbent mobile network operators.
However, he said there were some fundamental regulatory changes that needed to be implemented by the Independent Communications Authority of SA (ICASA) if Orange was to see its MVNO - and other - plans realised.
Market hurdles
Industry observers have not placed a lot of confidence in Orange's ability to really shake up the market at this stage, however. This is partly because of SA's regulatory environment and partly because of the way the market - essentially a mobile duopoly - is structured.
IDC analyst Spiwe Chireka says ICASA is "indifferent" to MVNOs and encourages - but does not enforce - infrastructure sharing.
"Ideal market conditions for MVNOs would require active encouragement of MVNOs and forced infrastructure sharing by the regulator to allow easy entry for MVNOs."
That being said, Chireka points out that an MVNO can operate in SA without the involvement of the regulator, and partnership options for Orange do exist without enforced infrastructure sharing.
Chireka says the nature of South African telecoms is "cutthroat", and added to the poor track record of MVNOs in SA, the question remains whether Orange has good prospects as the eighth provider entering the market.
Shortly after the Virgin brand found its way into SA's telecoms arena, founder Sir Richard Branson told ITWeb he saw the landscape as totally dominated by Vodacom and MTN. "They have significant influence over the industry. Competing against such large players is not easy, especially when the regulatory framework does not specifically help younger, smaller companies."
Crozier previously said Orange's launch as an MVNO in SA is highly dependent on the right timing.