25 000 businesses adopt SnapScan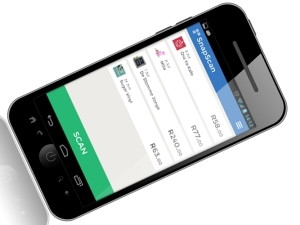 Mobile payment app SnapScan is now being used by 25 000 businesses across the country.
This is according to Kobus Ehlers, one of the founders of SnapScan, who says the free mobile app was developed to help local businesses with limited access to formal payment facilities.
SnapScan allows a user to pay by scanning a code displayed in store or with a bill, confirming the amount and approving the transaction with a PIN. Receipts are mailed to shoppers digitally and use of the app is free.
"The basic idea is that you install an application, you link a payment card to it and complete that payment," says Ehlers.
He explains: "For many years, people have tried to solve the problem of giving people access to banking. That includes a lot of the large banks that have done work in that space and third parties. What we thought was that really technology changes that in specific ways due to mobile phones becoming more powerful.
"Today you already use your phone to do a majority of other things than making a phone call, and it seemed inevitable that payments was going to be part of that. So the real question was can you do something as simple as paying for a cup of coffee using just your phone."
SnapScan started small, but the company tested its product and slowly rolled out into local coffee shops and then into retail spaces. The company then adapted the app to its users, says Ehlers. "The product that we built initially really wasn't what people wanted. So speaking to our customers, understanding their requirement was key to building this product."
SnapScan also works with private companies, providing ways to pay for everyday expenses, like prepaid parking.
"Street parking for us is one of the really interesting and good use cases of SnapScan, where it solves a problem for both the parking attendant and for the motorist... All the marshals accept parking payments using your phone and that is expanding throughout South Africa as well."