VOIP a 'nonstarter' for SA consumers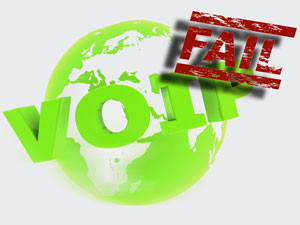 The notion of voice over IP (VOIP) as a mainstream technology in SA's consumer sector is "pie in the sky" - at least until the country overcomes the numerous barriers to entry it is faced with.
This is according to industry experts, who say VOIP adoption among consumers in SA is still negligible - more than six years after it reached SA. In stark contrast, consumers globally are rapidly taking to alternative, cheaper means of making phone calls, particularly abroad.
Local challenges such as bandwidth dearth, inflated bandwidth prices, a lack of industry skills and last mile connectivity, are thwarting the potential consumer benefits of the IP technology, which for all intents and purposes represents significant telephony cost savings.
Barriers to entry
George Smalberger, MD of local telephony firm SS Telecoms, says steadily improving bandwidth access in SA, along with the increasing market presence of over-the-top VOIP products, has led many to predict a massive shift from voice-centred communication to VOIP solutions in SA. But, he says, the shift may not be as marked as many expect.
Telecoms experts cite the lack of awareness, prohibitively high bandwidth costs (despite recent price cuts), questionable bandwidth quality and the fact that SA is a mobile nation, as some of the reasons VOIP has not been able to grow into a mainstream technology among South African consumers.
World Wide Worx MD Arthur Goldstuck says, with SA being a mobile hub (with a mobile penetration rate of 128%, according to Deloitte Digital), VOIP on the consumer front does not feature significantly at all. "It is pretty much a nonstarter in SA, as people are largely dependent on mobile."
Spiwe Chireka, senior telecoms analyst at IDC, says VOIP is a viable option for South African consumers - but only in theory. "The technology is viable in terms of offering low cost calls to consumer. But that is on paper. VOIP is used on a wholesale basis, ie. operators use it to transmit voice traffic internationally and across their networks. But if we look at end-users adopting the technology, the technology is yet to become mainstream."
Chireka notes that, with the cost of bandwidth still excessively high in SA, the cost savings from VOIP are also limited. "It is important to note that VOIP requires good bandwidth [which] can be costly for the average person [in SA]."
Consumer limitations
Jacques du Toit, CEO of Vox Telecom, says SA can forget about VOIP for the consumer market for now.
"The consumer market has only got two things - ADSL, because he [the consumer] can't afford uncontended bandwidth, and 3G or GSM. In terms of ADSL, the technology has not matured to the extent where you can comfortably run voice over it. So I think for your consumer market you can forget about it. Your small office home office (SOHO) market may run VOIP on ADSL, but [players in this sector] will go from a 4Mbps ADSL line to a 10Mbps ADSL line."
In addition, notes Du Toit, there are a high number of poor implementations of VOIP - due to a lack of industry skills and poorly planned networks in the local market - and these also present challenges.
"Many customers get a perception around VOIP. If you have a bad experience in any one of the areas [involved in a VOIP network], you are going to take that experience into the market."
He says all is not equal when it comes to VOIP offerings, and quality does not come cheap. "It comes down to the fact that nothing is free or cheap. If you want quality you will pay for it.
"In my view, consumers have no VOIP opportunity. Not for now. It has started in the SOHO market, but the market needs to mature. We need to give the consumer better ADSL."
Slow adoption all-round
Richard Hurst, Ovum's emerging markets analyst, says VOIP makes "perfect sense" for the cost-conscious South African telecoms market, but adoption has been slow, even in the corporate sector.
Speaking numbers, Chireka says an IDC survey at the end of 2011 found that only 22% of enterprise voice traffic is via VOIP. "Fifty-two percent of enterprises in SA were using PC-based VOIP solutions and only 17.8% were using a hosted VOIP solution (which is what is currently being punted in the South African market).
"So, uptake is still very low at the moment among end-users [in general]."
Viable case
Hayden Lamberti, innovation and technical manager for Internet Solutions' communications business, on the other hand, says VOIP is both a viable option - primarily for corporates, but increasingly for consumers - and a reasonable threat to SA's incumbent fixed-line operator.
"The VOIP model works and, while we may still have high bandwidth costs, there is absolutely an opportunity to save money using VOIP."
He says VOIP has definitely dented Telkom's revenue, "but [the company] is a juggernaut and most people are still using their services".
Lamberti says the technology will probably not "break Telkom's back" in the next five or so years, but VOIP is growing and, in terms of "future-proofing" themselves, it is the better option for corporates, SMEs and even individual consumers.
Pie in the sky
Smalberger says it is important to note that VOIP remains a nascent technology in SA. "Until there is a strong ability to manage the technology across the market, the idea that voice communication will be replaced by wholesale VOIP is a bit pie in the sky."
Goldstuck says "over time" all communication will be via the data layer, but that is not a scenario that will exist anytime soon. "I can't say when, but when we have a full 4G network, it will be possible for all communications to be all IP. But that would require a 100% 4G network."
In the meantime - and for some time still to come - experts echo Goldstuck's sentiments that VOIP in SA is for the most part a "nonstarter".