JHB zoo creates world's first animal tweeter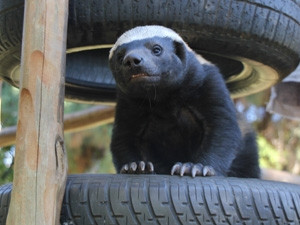 A honey badger that lives in the Johannesburg Zoo has become an overnight sensation by becoming the first animal in the world to be an active Twitter user, through the use of its hi-tech enclosure.
BG already has more than 2 000 followers after being on Twitter for only about two weeks.
Senior art director at the Joburg Zoo, Moira-Gene Sephton, says the zoo has long been interested in going digital as it realises the integral role social media plays in letting people know about its events and zoo causes.
"Unfortunately, it does require quite a lot of resources and manpower to successfully manage and update social media channels on an ongoing basis," says Sephton. "The beauty and cleverness of this project is that it makes running social media totally manageable on a very small budget."
Digital agencies Hellocomputer and BinarySpace designed an enclosure using motion sensors triggering activity-related tweets. Should BG move around his food bowl, for example, a food-related message will be tweeted.
"If the sensor in the front of his enclosure gets triggered, the server releases a tweet that relates to the visitors that he interacts with at the front of the enclosure. So each tweet sent out is linked to his location and activity in the enclosure at that point in time," explains Sephton.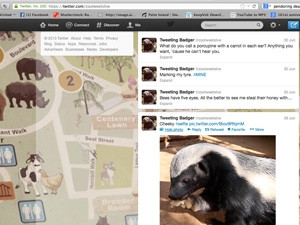 The wireless sensors use passive infrared technology and xbee wireless modules, which communicate with a base station outside the cage. When a sensor gets triggered, it sends through a notification to the base station, which will in turn send it through to a server which handles the sending of pre-written tweets based on the data.
The hi-tech enclosure was designed in such a way as to pose no threat to BG. "The system utilises wireless sensors, so there's nothing for BG to chew on, choke on or entangle himself in," says Sephton. "The sensors are also small and unobtrusive, and have been attached at the highest points of the enclosure, while the base station and its solar power source have been placed outside the enclosure."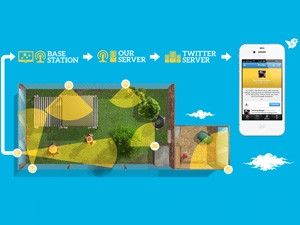 She says the sensors are also enclosed in hard-to-penetrate Perspex, so if BG does manage to get his claws on one, he will not be able to penetrate it in the short term and it can be retrieved by zoo staff.
Sephton was unable to give an exact figure of the cost of BG's tweeting system, but says because it was constructed out of cost-effective, readily available components, the outlay has been kept fairly low.
As to whether other animals will soon be joining BG in the Twitter-sphere, Sephton says there are many other candidates who might be up for the job. "For now, the job has fallen on BG's shoulders, but there are plenty of interesting candidates, ones who are on the extinction list and who could become spokesanimals for their species as well. Who knows what the future will bring?"
BG can be followed at @zootweetslive or #tweetingbadger.