Wikipedia opens $100m fund for future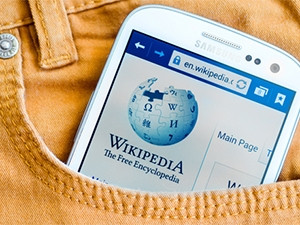 Having turned 15 on Friday, Wikipedia hopes for a more financially-secure long-term future in The Wikimedia Endowment, a new fund aiming to raise $100 million over the next 10 years to power the online, crowd-sourced, free encyclopaedia.
The endowment will begin with less than $1 million donated by the estate of software engineer Jim Pacha, and will work towards acquiring $100 million by 2026.
Until this point, Wikipedia has powered itself with around $250 million rustled together through online funding drives. The Wikimedia Endowment aims to give the encyclopaedia an additional, more stable, source of funding, particularly in the face of economic turmoil, but the encyclopaedia will continue to ask its users for donations.
"We have a great fundraising model right now, but things on the Internet change so it's not something we can count on forever," says Lisa Gruwell, chief advancement officer at the Wikimedia Foundation.
As what began as a small aggregation of crowd-sourced information has swelled to millions of articles in over 250 languages and become the seventh-most-accessed Web site in the world, Wikipedia's computing and staffing needs have steadily increased. Each of the six Web sites outranking the encyclopaedia in global traffic - including Google and Facebook - are run by for-profit companies.
Wikipedia now employs around 300 people - Google and Facebook each employ over 10 000 - although most of its articles are written and edited by some 80 000 volunteer contributors around the world.
Not so needy?
Yet some have jibed that Wikipedia is not as cash-strapped as the regular banner-ad-style funding pleas on its Web site make it out to be.
In the last fiscal year (ended 30 June), the Wikimedia Foundation amassed $76 million in revenue, easily covering its $53 million in operating expenses.
While the $23 million in surplus revenue was funnelled into the foundation's reserve fund, now about $65 million strong and robust enough to cover Wikipedia's operating expenses for the next fiscal year, the encyclopaedia still pleaded for donations throughout December 2015, raising a further $30 million.
The Wikimedia Foundation is "very good at begging for money, but the bottom line is they could go another 10 years without raising another dime," says Eric Barbour, a former Wikipedia editor who is writing a book about the foundation's business practices.
Wikipedia co-founder Jimmy Wales says additional funds are needed to expand and further develop the service. A key focal point for the moment is making the Web site - which was designed for desktop use - more easy to access and edit on mobile devices; a particular concern for users in "developing" countries, says Wales.