App to help fishermen monitor catches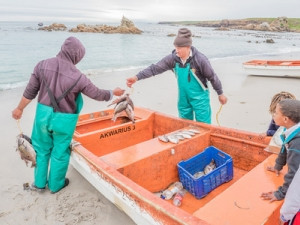 A free smartphone app suite, called Abalobi, is helping small-scale fishermen to monitor their catches and better manage their businesses.
Abalobi is named for the isiXhosa phrase Abalobi Bentlanzi, which means "fisherman" or "fishers". The concept was born out of brainstorming sessions between researchers at the University of Cape Town, small-scale fishers and the Department of Agriculture, Forestry and Fisheries (DAFF). This followed discussions on implementation of the 2012 Small Scale Fisheries Policy and United Nations FAO Guidelines for Securing Sustainable Small-Scale Fisheries.
"This is not about a team of IT people developing yet another app. Abalobi is an initiative by the small-scale fishing communities themselves, to own the process of implementing the policies they fought for," according to project director Serge Raemaekers.
A mobile app suite was developed which aims to enable small-scale fishers to drive and be integrated into information and resource networks - from fishery monitoring and maritime safety to local development and market opportunities.
Abalobi says on its Web site that with full rollout, the app suite has the potential to impact the 100 000 households dependent on the small-scale fisheries sector in South Africa. A pilot process is currently active in six sites in South Africa, with large-scale rollout scheduled for late 2016.
Seed funding for the application was provided by Vodacom Sustainability and the mobile operator says it also provided smart devices for the fishers. Other funding was provided by the DAFF, the National Research Foundation and the Technology Innovation Agency.
"To be able to digitise catch records for subsistence fishermen and empower them through taking ownership of their catch data was an opportunity that Vodacom could not pass up," says executive head for Vodacom Sustainability Suraya Hamdulay.
"This partnership further demonstrates that a sector that is steeped in tradition can be enhanced through the use of technology whilst not compromising tradition."