Contact centre boost for African banks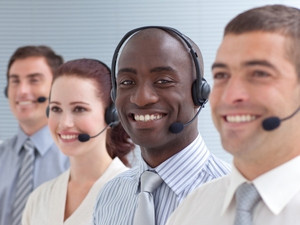 The banking sector in Africa is becoming increasingly competitive on the continent. Contact centres can provide financial service organisations with an edge. They can assist to improve customer service, drive sales, lower the cost of products, ensure compliance and better manage risk.
Those are some of the biggest takeaways from a white paper by ICT services provider, Jasco Enterprise, which notes the opportunity for banking services organisations in Africa is significant.
According to the white paper, appropriately resourced contact centres can assist financial service organisations to attain high levels of service.
As more people sign up for formal financial services products in Africa for the first time, banks in Africa will be challenged to innovate rapidly, creating affordable entry-level products that meet their needs, says Danny Ross, Jasco Enterprise's general manager for Africa.
"To ensure affordability, these products need to be serviced via inexpensive communication channels such as SMS, IM and e-mail," Ross explains. "Risk management will also be a key factor. Effective means of identifying customers and authorising interactions, and voice recordings of interactions, will mitigate risk."
Ross points out roughly 85% of employment in contact centres is either around customer service or marketing. Depending on the level of interaction, he explains, the skills of the workforce may vary depending on the requirements to deal with more complex transactions.
He reveals the financial sector employs roughly 15% to 17% of all contact centre agents, adding most financial services organisations pursue a relationship-deepening strategy with their customers, and this places a premium on customer satisfaction.
"The contact centres should, therefore, look at resources that are very skilled and trained in customer satisfaction. They can then be trained in the specific financial services components," Ross says.
He points out it can take up to 18 months to train agents to be effective and to be knowledgeable in handling financial services queries. "There are many systems to understand and navigate through, and full training is required in order to do so. The agent churn is large and the agents move on, leaving the banks with a continuous drain of skilled resources and they then have to start the process from scratch."
According to Ross, most banks still do not have a single view of a customer - their history and what services they have received from the bank; and this means there is no cross-selling or up-selling and the banks are not able to provide excellent service to their customers.
Thus, he believes, the selection of a contact centre solution should be based on achievement of immediate as well as medium- and long-term business objectives.
"As contact centre solutions are built on open platforms, integration with disparate technologies and systems the organisation may already be using is relatively easy. In addition, as these systems are modular, different contact centre functionality can be activated as need and budgets dictate."
He also notes when every branch of a bank has its own switchboard, and staff in various departments are made responsible for handling customer calls, productivity and customer service levels are likely to drop.
A central contact centre with well-trained staff can more effectively and efficiently assist customers, leaving specialised staff to do valuable work, he adds.