FNB app incorporates augmented reality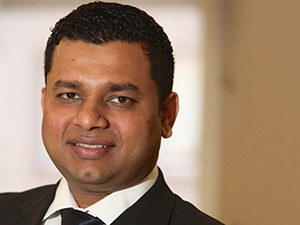 First National Bank (FNB) has added augmented reality (AR) technology to its banking app to help users locate eBucks partner stores.
Users will be able to hold their phone up and see the 'real-world' through the smartphone's rear camera with an AR overlay that will point them in the direction of where they can spend eBucks.
eBucks are the points customers collect through the bank's rewards programme.
"Computing has evolved rapidly and with smartphones we can transform banking into an intuitive, helpful and valuable way to manage your money, help you shop, and deliver services at your fingertips," says Sahil Mungar, head of marketing for FNB digital banking.
"AR overlays retail partners onto your phone screen, indicating the distance to the retailer, eBucks spend and earn options, opening times and contact details. This will evolve over time to become even more interactive to supplement your physical world with how FNB can save you rands and make life easier to manage."
FNB says it takes its lead from Apple, which recently indicated AR will become a significant feature in its ecosystem.
The bank is also introducing FNB TV to the updated app, which will give users the option to watch short video clips to help navigate the app and banking processes.
"FNB TV now allows customers to find and watch helpful mini-videos to help with common day-to-day frustrations we all experience. We have analysed common customer enquiries at our branches and contact centres, and have very short videos available on FNB TV to help them find quick solutions," says Mungar.
FNB says the videos available on the platform will be continuously updated.
The updated version of the app is available immediately to Android users and will roll out over the next two weeks to iPhone users.
Other new features include the ability to temporarily block, unblock, cancel and order any cheque, credit or debit card, and a place to renew car licences, and view and pay traffic fines.