Newland celebrates partnerships with Marbella Event 2018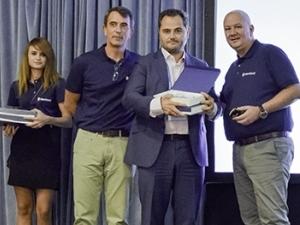 Newland EMEA organised a partner event experience this year to bring together over 100 members of its Newland partner community. It invited a variety of industry contacts for two days of inspiration, networking, news and best practice sharing.
Attendees went home with new insights, ways to grow their Newland business, and learned how to tap into the opportunities Newland EMEA has to offer. Here are the highlights:
Thriving in the fast-paced world of AIDC
Since entering the market in 2009, Newland EMEA has left its mark in the AIDC space. It is one of the fastest growing players in the industry and emerged from one of China's largest integrators to a tier one AIDC manufacturer. Worldwide, it has grown to be the number four vendor of AIDC products. That is in addition to its already strong position as number two global E-POS terminal supplier.
Over the last three years, it reached an average growth of more than 60% per year. As Newland EMEA CEO Peter H Sliedrecht stated in his opening presentation: "The success we have in EMEA is due to our clear distribution strategy, working with delegated Newland partners and resellers and some strategic vertical market specialists." It has built a strong community that is fully in line with its mentality and focus on quality and innovation. And it's clearly paying off.
Product-wise, the company's growth has been influenced by its mobile computer, micro kiosk and stationary scanner product groups. Some star players being the MT65 Beluga III, MT90 Orca and FM430 Barracuda.
What's next for Newland?
Mobile payment and customer-facing POS solutions continue to evolve and shape the retail experience. As one of the leading mobile payment hardware providers in China, Newland is a strategic partner of Alipay (a subsidiary of Alibaba) and WeChat (a subsidiary of Tencent). Its devices have led the charge in this trend in Asia over the last few years. As mobile payment and self-service is quickly growing throughout EMEA, it's clear that Newland has a strong product portfolio that will help it play a major role in this region as well.
Additionally, Newland EMEA leaned into trends in the pharmaceutical industry and built a strong presence in warehousing, transport and logistics.
The company will continue building on its distribution strategy, as well as improving its free-of-charge Buckets MDM on all its Android-based products and ensuring flagship devices are SOTI-certified.
Networking and activities
Aligning happens by connecting and sharing information. To do so, Newland EMEA spent an afternoon exploring Newland's go-to-market strategy, compelling case studies, marketing tools and other ways you can drive sales. But after this, it was time to turn the tables. A programme focused on good food, good ambiance and, most of all, great conversation allowed for all partners to relax, have fun and network.
More info on Newland ID can be found on www.newland-id.com/sa.