Facial recognition predicted for new iPhone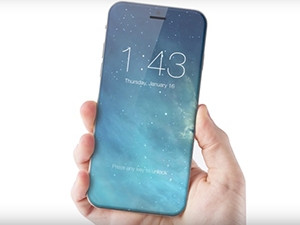 The new iPhone will most likely feature an edge-to-edge display and while it will have a home button embedded into the screen, this will not feature fingerprint technology, predict analysts.
2017 will mark the tenth anniversary of the Apple iPhone and the company is expected to completely redesign the smartphone.
There is speculation it will not follow the current naming system and will be called something other than the iPhone 7S or iPhone 8. Various reports have called it the iPhone X.
From late last year, the consistent rumours about the device have been that it would have an edge-to-edge screen, like the new Samsung Galaxy S8, and a fingerprint sensor incorporated.
In April, Pacific Crest Securities analyst Andy Hargreaves said in his note to investors that Apple was having trouble building the fingerprint sensor into the screen and this may cause delays or see the new iPhone ship without a sensor.
Ming-Chi Kuo, an analyst from KGI Securities, who has a track record of correctly predicting the iPhone manufacturer's plans, agreed with this in a list of iPhone predictions he published on Street Insider.
Kuo says Apple may release three smartphones this year; two with the similar form factor as recent years (4.7- and 5.5-inch) and a new OLED 5.2- or 5.8-inch model.
This new model will be the one with the edge-to-edge full-body screen with a virtual home button.
"We predict the OLED model won't support fingerprint recognition, reasons being: (1) the full-screen design doesn't work with existing capacitive fingerprint recognition, and (2) the scan-through ability of the under-display fingerprint solution still has technical challenges," says Kuo.
He says these challenges include: requirement for a more complex panel pixel design, disappointing scan-through of OLED panel despite it being thinner than LCD panel, and weakened scan-through performance due to overlayered panel module.
"As the new OLED iPhone won't support under-display fingerprint recognition, we now do not expect production ramp-up will be delayed again (we previously projected the ramp-up would be postponed to late October or later)."
Instead, Kuo says this new phone will support 3D sensing for facial recognition to unlock.
It is also predicted to have the capacity for two rear cameras.
Kuo's other predictions for all three models include: 64GB and 256GB storage options, a Lightning port and better stereo speakers.
Kuo says Apple will want to maintain its "boutique image" and the OLED version will offer fewer colour options.