Watson powers intelligent whiteboards from Ricoh, IBM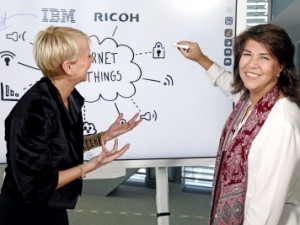 IBM and Ricoh have created the cognitive-enabled interactive whiteboard that uses the intelligence and voice technologies of IBM's Watson to take commands and notes, perform actions, and even translate meetings into other languages.
The Intelligent Workplace Solution uses IBM Watson IOT and Ricoh interactive whiteboards to change the way teams meet and collaborate through new features that can be accessed using natural voice.
"Watson is an active participant that uses real-time analytics to guide discussions for faster, better, and more informed decisions," says Lauren Timmer-Somer, head of marketing and interconnectivity solutions at Ricoh SA. "Most of the information generated from meetings is either lost shortly after meetings or never made usable because it is unrecorded, unstructured, or not contextualised. Now Ricoh's innovative solutions help people collaborate for better productivity, while IBM envisions smarter meeting support functions with Watson's learning capabilities."
Interactive whiteboards powered by Watson chiefly promote effective smart tools that automate administrative office processes and empower people to focus on tasks and ideas that support business value. It pushes the concept of interactive whiteboards beyond being a screen or whiteboard for displaying or sharing information to becoming an active participant that provides a wealth of contextual support.
Features of the new cognitive-enabled whiteboard solution include:
Simple, global voice control of meetings: once a meeting begins, any employee, whether in-person or located remotely in another country, can easily control what's on the screen, including advancing slides, all through simple voice commands.
Translation of the meeting into another language: the Intelligent Workplace Solution can translate speakers' words into several other languages and display them on screen or in transcript.
Easy-to-join meetings: with the swipe of a badge, the Intelligent Workplace Solution can log attendance and track key agenda items to ensure all key topics are discussed.
Ability to capture side discussions: during a meeting, team members can also hold side conversations that are displayed on the same whiteboard.
"Collaborative work forces are at the heart of successful business. The challenge is bringing disparate teams together and then enabling them to be productive," says Harriet Green, GM, Watson IOT. "With IBM's Watson IOT technologies, Ricoh's interactive whiteboards don't just guide meetings; they foster an open exchange of ideas and make it easy for teams to work in partnership and bringing meetings to life."
IBM is installing more than 80 Ricoh interactive whiteboards in its new global Watson IOT headquarters in Munich, Germany. This will enable IBM's product development teams in Munich to hold productive meetings with colleagues in other locations like Japan, Brazil and the US.