T-Systems, Dassault Syst`emes and Fujitsu launch ground breaking new PLM solution to South African market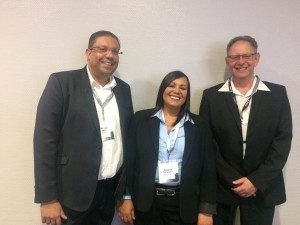 * T-Systems South Africa and Dassault Syst`emes extend their global partnership to the South African market.
* The PLM solutions combine Dassault Syst`emes' 3DExperience Platform integrated by T-Systems with Fujitsu's industrial computer kiosks for use on factory floors and rugged environments.
* The disruptive solution is a South African innovation emerging from a local partnership of international based organisations, and offers local support and investment.
Information and communication technology (ICT) service provider, T-Systems South Africa, have extended their partnership with Dassault Syst`emes, world leader in 3D design software, 3D Digital Mock Up and Product Lifecycle Management (PLM) solutions, into the South African market. In looking for a disruptive approach to the market, ICT company Fujitsu South Africa, have brought their Industrial Kiosk to the partnership, which will bring a revolutionary approach to PLM that caters to the rugged environments and heavy demands of the industrial sector. These solutions launched officially at the Dassault Syst`emes "Innovate the Future" event held at T-Systems in Midrand on the 4th July 2017.
The combination of Dassault Syst`emes' unique 3DExperience Platform with Fujitsu's industrial computer kiosks with built-in track pads and palm vein user authentication, all neatly packaged as part of T-Systems' extensive value-added solution, result in a unique end to end PLM products and services offering. With this partnership, T-Systems and Dassault Syst`emes plan to offer Dassault Syst`emes' 3dExperience Platform from the cloud, a first in the PLM space in South Africa. In addition, T-Systems will make access to High Performance Computing available to the local market. Touted as the first real "Simulation-as-a-Service" offering in South Africa, the disruptive, cloud-based solution aims to make PLM accessible to the South African engineering and manufacturing industry.
Currently aimed to solve the problems of managing design and product simulation, the paperless solutions enable organisations to manage their products and services from design and engineering to the customer environment - making it ideal for the needs of the automotive and manufacturing industries, as well as other sectors of the economy, from the financial sector to Smart City programmes. The solutions promise to eradicate problems typically associated with traditional processes, such as damage and loss of paper-based designs, complex change tracking and repetitive hardware repairs and replacements due to the rugged environment of an industrial area.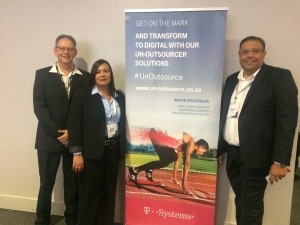 "The planning, design and management of products or services will become a whole lot simpler and easier to manage with these PLM solutions," says Michael Frans, Head of Business Development and Strategy for Automotive and Manufacturing Industries at T-Systems. "Users will be able to use the software easily, and take advantage of true collaboration across organisations. In the production areas, using the Fujitsu kiosk's system, production staff will be able to view the current build instructions, and important production information. These solutions mean that the time spent on design, redesign and fine tuning a product or service is reduced, while records of changes are able to be stored and managed."
According to Natasha Sampson, Partner Acquisition and Partner Success Manager, Dassault Syst`emes, South Africa is ripe for solutions addressing end-to-end business processes. "We believe that South Africa is a growing market with businesses that are beginning to recognise the value in the use of virtual applications to remain a step ahead of competition. We are strongly invested in South Africa - a common thread between ourselves and both T-Systems and Fujitsu - and are proud of an innovation of this disruptive scale emerging from these shores."
T-Systems' Managing Director, Gert Schoonbee, seconds this belief, saying, "At T-Systems, we have long been believers in developing, growing and retaining local talent within South Africa, and the market disruption that this solution promises to bring about is yet another way that we, as a nation, are proving to be at the forefront of technology. T-Systems, Dassault Syst`emes and Fujitsu all have local presence within South Africa, and as such, we are best positioned to service the local market."
Steven Kramer, Channel & Marketing Manager: ESA at Fujitsu, says of the partnership, "We see value in real partnerships, such as this one which brings a unique PLM offering to market. Dassault Syst`emes has a fantastic software solution, Fujitsu has a hardware offering that is uniquely suited to launch the software solution, and T-Systems has the knowledge, experience and cloud platform to link it all together and offer it as an end-to-end solution, including Fujitsu Servers and server platforms as needed by customers. The combination of our abilities and strengths will enable us to pave the way for new opportunities as we identify new problems we can solve - the possibilities are endless."