Refugee rescue app uncovered as fake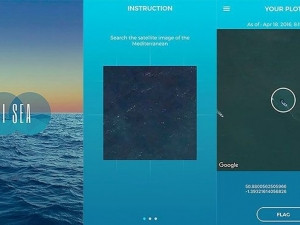 An app that received global news coverage for its alleged ability to crowdsource aid to refugee boats on the Mediterranean Sea has been uncovered as a fake, and was removed from Apple's App Store mere hours before it won a Bronze Lion at the Cannes Lions international advertising awards ceremony in France on Monday.
The I Sea app was a product of the Singapore branch of global advertising and marketing agency Grey Group.
The app, which received positive coverage from a number of mainstream news publications including Reuters, Wired, and Mashable, purported to divide a satellite image of Mediterranean Sea into a number of small, more easy-to-monitor plots, which would then be randomly assigned to users. Users were told they could help rescue migrant vessels in distress by visually monitoring their plot and using the app to send an alert to the Malta-based Migrant Offshore Aid Station (Moas) if they saw anything that piqued their concern.
Yet Grey Group's scheme, while technologically feasible with enough resources, was a farce. Suspicious developers banded together online earlier this week to discover that the app in fact displayed the same picture to all users: a static image of an ocean from above, which was discovered to be a photoshopped screenshot from Google Maps. The app was also found to display live weather information for Western Libya, rather than from the southern Mediterranean as it claimed.
Apple has since removed I Sea from its App Store for breaching App Store guideline 1.1.6, which forbids "false information and features... such as fake location trackers".
Moas - which does legitimate work to rescue refugees on the Mediterranean sea - has distanced itself from Grey for Good - the pro-bono arm of the agency - clarifying in a statement that the organisation was unaware that the app was illegitimate, and had provided information for its development hoping that it would help save lives as it promised to.
Not funny
The alarm was first raised on the fake app by popular satirical Twitter user SecuriTay (@SwiftOnSecurity), who tweets about cyber security using pop star Taylor Swift as a joking avatar and alias.
"Tried it, the app is completely non-functional," tweeted SecuriTay on Monday, later adding - after numerous other Twitter users had weighed in with their own findings - that: "I intuitively knew this app was fake within 20 seconds of using it. It screams unfinished interface mock-up, doesn't act right."
SecuriTay went on to acknowledge an anonymous user's suspicion that the I Sea app was "an in-progress intern proof-of-concept they pushed as finished," but noted that this possible scenario "does not explain how the 'I Sea' app ever hoped to get high-resolution, near real-time satellite imagery of the entire Mediterranean... nor does it explain... how laypersons are supposed to identify stranded refugee boats from... blurry satellite imagery".
The Twitter user also noted that the absence of copyright notices for any of the app's data or content raised suspicions, as "realising this concept in reality would be a large undertaking from experts [and] companies, who would be credited."
Gawker on Monday reported that Grey Digital posted a "non-apology" claiming that the app was "in testing mode," although this statement cannot be found on the company's Web site at the time of writing.