Venture capitalist eyes R85m solar investments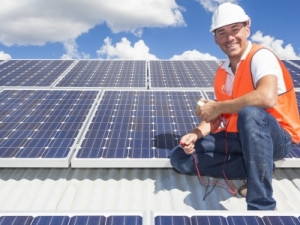 Nesa Investment Holdings (NIH) has opened its second capital raising round, providing investors with an opportunity to invest in SA's renewable energy sector.
The fund invests in a portfolio of commercial rooftop solar energy projects and related technologies, and earns revenue through operating, renting and maintaining these projects to its clients.
NIH says the initial round of capital raising in the first quarter of 2017 quickly yielded R10.5 million, 65% of which has been invested successfully in projects currently under way.
NIH is a 12J venture capital company co-managed by Nesa Capital and CreoVision. It was established in the first quarter of 2017 as a vehicle for providing innovative funding of rooftop solar photovoltaic (solar PV) projects on commercial and industrial buildings.
The venture capital company says it has an additional qualified investment pipeline of R40 million, of which it has received R20 million in letters of intent or term sheets from clients requesting funding for their solar projects.
It expects to raise a further R85 million in the third quarter of 2017, due to the growing demand for the technology in the market.
Peter Frolich, director of NIH, says modern solar technology has advanced in leaps and bounds. "Increases in production outputs and costs efficiencies mean industries, households and ultimately countries will be powered by the sun in the not-too-distant future.
"As finite fossil fuels become depleted, installed solar capacity can provide an alternative and clean energy source and alleviate the burden on already strained installed power grids around the world."
He points out that SA's power grid is especially strained, with its growing population and rising energy costs.
According to Frolich, costs of solar PV projects are dependent on the size of the installation, but can cost anywhere between R500 000 to approximately R50 million.
"As SA is still in the early adoption phase of solar PV and the sector still relatively unregulated, the market is finding its feet and gradually trusting the technology. Clients are looking for performance assurances to mitigate their risks when investing in a solar system," Frolich says.
"There is no shortage of demand for projects in the market as developers recognise the numerous benefits of energy harnessed by solar PV. However, not every project is a viable investment, and the NIH team's strict appraisal process of investigating financial, engineering and sustainability elements determines whether or not to proceed with offering funding."
Describing the investment strategy, Frolich says NIH invests in small-scale embedded renewable energy projects. Income is generated through the operation, maintenance, renting and/or sale of power generated to underlying clients.
He points out the typical rental term is between five and 15 years, but the client has the option at any time to buy the system outright. The rental fee is structured so that it is equal to or lower than the savings generated from the solar system.
Investors of the fund are allocated shares that receive dividends derived from the rental income generated by NIH's portfolio.
"A transition from coal-powered energy production to renewable energy is critical to the sustainability of the South African energy grid, and the environment. National power utility Eskom is currently installing additional power capacity, but new and sustainable energy sources are key to reduce operational costs and facilitate growth," Frolich concludes.