Namibian firm offers ultra-compact PC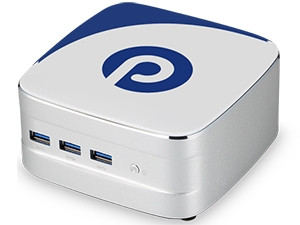 Namibian-based Paratus Telecom has introduced an ultra-compact PC range, PEBL, which is power-efficient and extremely small.
The company says the PEBL range will challenge the essence of how one defines a desktop PC, as it comes in at only 120mm by 120mm.
Paratus Telecom SA MD Kallie Carlsen says PEBL uses less than 10% of the power consumption of traditional desktop PCs.
"PEBL is extremely power-efficient. It uses a 12V power supply that consumes between 15W and 30W. It is also compatible with almost all popular operating systems, such as Windows and Linux," he says.
Paratus Telecom is a privately-owned Namibian telecommunications operator which was founded as Internet Technologies Namibia in 2005. Its head office is in Windhoek but it also has fully licensed offices in Angola, Zambia and SA, with additional international points-of-presence in Lisbon and London.
The company says PEBL has the power and performance of bigger desktop computers but in a much more compact design. It is so small that it can be mounted to the rear of a monitor. PEBL is powered by an Intel chip and comes in a range of component options at different prices.
"PEBL is a highly durable and integrated mini PC. Its fan-free design makes it run quietly with no need for extra maintenance like traditional desk computers. Its aluminium alloy PC case is durable with high heat dissipation."
The tiny PC is not to be confused with Motorola's PEBL cellphone, launched in 2005, or the PEBL programming language.
Other features include:
* Customised/branded top panel with touch power function and dynamic light feature.
* Intel CPU.
* Quad core, i3, i5 and i7 units available.
* Known brand performance accessories/upgrades (SSD, HDD, RAM).
* Pairing of SSD and HDD simultaneously, providing performance-storage pairing possibilities, tailored to clients' needs.
* WiFi module with 2.4GHZ frequency range and high-speed double WiFi internal antenna.
* Intel HD 4400 & HD 5500 with HDMI and VGA outputs.
* 4K Video Capable 3840x2160@30HZ.