Sync attends surf industry's biggest fundraising event, Waterman's Ball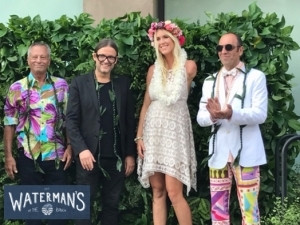 Earlier this month, the annual Waterman's Ball was held at The Ranch in Laguna Beach, California. Peter Booysen, CEO of iSyncSolutions, was honoured to attend this Surf Industry Manufacturer's Association (SIMA) fundraiser event, the biggest in the industry, that gathers surfing's elite to raise funds for 18 ocean-related environmental organisations.
The prestigious event is headed by Paul Naude, CEO of successful surfing brand Vissla, and SIMA Environmental Fund President. Vissla has been a client of iSyncSolutions for the past three years, since the implementation of its ERP software system Sync into the company.
"It's great supporting an event that not only honours individuals who have made a notable impact on the surf industry, but who also work extremely hard to raise significant funds that go to ocean-related environmental organisations aimed at protecting and preserving our oceans," says Booysen.
The 2017 Waterman's Ball selected four people as this year's honourees for their contributions to the surfing industry. These included Waterman (or woman) of the year, the inspirational Bethany Hamilton, who lost her arm to a shark attack in 2003 and yet continued to surf professionally and has used her story of overcoming obstacles to inspire millions around the world.
Other honourees included legendary surfer Herbie Fletcher (Lifetime Achievement Award), Parley for the Oceans founder Cyrill Gutsch (Environmentalist of the Year), and Fernando Aguerre, who received the Special Recognition award for his tireless efforts to get surfing into the Olympics, an effort which has paid off.
Since Sync has many surf brands as clients, it seemed a fitting fundraiser to support, and the company commends SIMA for its efforts, and looks forward to seeing more funds raised in the future for this important environmental cause.